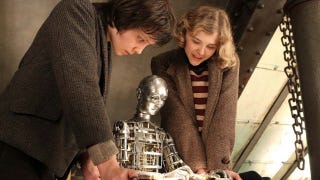 At the New York Film Festival this Monday, Martin Scorsese was on-hand to unveil the very first showing of his upcoming historical-fiction flick Hugo. It was an unfinished cut of the film — the occasional green screen popped into shots — but this screening gave audiences a taste of Scorsese's lustrous Parisian wonderland.
The director's first family film is based on Brian Selznick's 2007 kids' novel The Invention of Hugo Cabret. The movie follows Hugo Cabret (Asa Butterfield), an orphan who lives a hardscrabble existence in Paris' Gare Montparnasse railway station after World War I. Hugo's only companions are a broken automaton and Isabelle (Chloë Grace Moretz), the brainy goddaughter of Monsieur Georges, a surly, secretive toy shop owner (Ben Kingsley).
The first thing you'll notice about Hugo is that it's a Martin Scorsese film with absolutely no songs by The Rolling Stones. However, this was still an early cut, so hopefully he'll be able to sneak "Miss You" into a heart-rending scene of Hugo pining for his parents.
The second thing you'll notice is the film's 3D, which is impressive without being ostentatious. Many movies use 3D as either an unnecessary frill or feeble selling point (see: Shark Night 3D). The closest Scorsese gets to unabashed 3D exploitation are the one or two occasions when extreme close-ups of Sacha Baron Cohen's face invade your personal space.