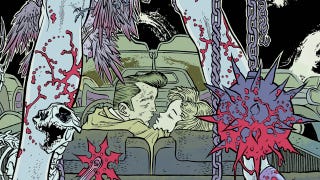 This week, the X-Men choose sides, Rage Against the Machine's guitarist pens a mutant dystopia, and teenage superheroes go on nicotine benders. It's Comics We Crave, massaging your temples over the internet.
First Issues
One of the most promising debuts this week goes to the new Vertigo horror compilation The Unexpected. We've been digging the publisher's anthology initiative that began with the scifi book Strange Adventures, and The Unexpected boasts work from such creators as Dave Gibbons, Brian Wood, and Jill Thompson.
Two other titles that have piqued our interest are Kieron Gillen's X-Men Regenesis — which sees the mutants picking sides in the wake of Schism — and Tom Morello's post-apocalyptic series Orchid. Check out our interview with Morello about this $1 comic here.