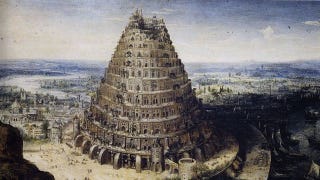 What languages sounded like before a few thousand years ago is one of the great unsolvable mysteries of modern science. Now two linguists have come up with a bold hypothesis: the speakers of the oldest known language spoke like Yoda.
Update: The original version of this article indicated the researchers were attempting to reconstruct what language sounded like 50,000 years ago, the estimated beginning of human language. I have been informed by a representative of the Santa Fe Institute that this is incorrect - rather, the authors believe "a much more recent human evolutionary bottleneck was likely the source of the proto-language", meaning the 50,000 year estimate is not the one they are working with.
However, mainstream linguistic opinion does place 50,000 years ago as a likely origin point, and any proto-language that encompasses all living languages would have to originate around then, as humans began migrating out of Africa shortly afterward. None of this invalidates the research discussed here - and I do think there are some intriguing ideas being put forward here - but I would still say there's plenty of room for skepticism about its findings. In fairness to the researchers, I have amended the article slightly to correct my initial errors.
End update.
Murray Gell-Mann of the Santa Fe Institute and Merritt Ruhlen of Stanford have come up with a possible way to peer all the way back to a language that predates all known tongues. They focused on one of the most fundamental aspects of language: word order. Your basic sentence features a subject, a verb, and an object. For instance, in the sentence "the man eats a sandwich", "the man" is the subject, "eats" is the verb, and "a sandwich" is the object.
In English, we subscribe to a very strict word order: first the subject, next the verb, and then the object. This is known as SVO, and any attempt to deviate from that in English creates nothing but confusion. Rewriting that sentence as subject, object, then verb (SOV) gives us "the man a sandwich eats", which is complete gibberish coming from anybody other than Yoda. Meanwhile, flipping the subject and the object around (OVS) is "a sandwich eats the man", which takes on a completely different (and nonsensical) meaning.
A lot of living languages are SVO, just like English, although a decent portion are SOV. SOV is also particularly common among dead languages - Latin is a particularly well-known example. The only other significant word order type is verb-subject-object (VSO). Verb-subject-object (VSO) and object-subject-verb (OSV) are both quite rare, but even they are practically common compared to object-verb-subject (OVS), which is almost unknown outside the Dravidian language Tamil and, well, Klingon.