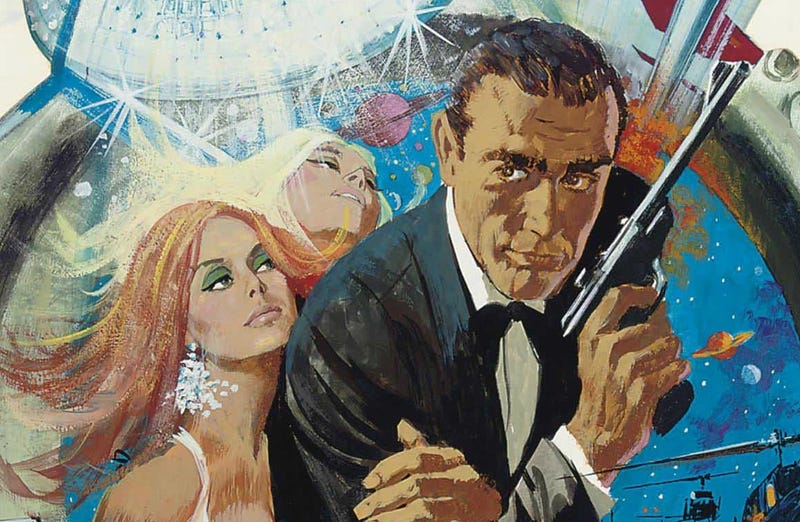 The 23rd James Bond movie is about to start production, with Sam Mendes (American Beauty) directing. Imagine if there had been 23 Batman movies. Or 23 Star Trek movies. Few other movie series can boast that kind of staying power, not just in terms of number of movies but in terms of enduring cultural relevance.
So we've been wondering: What are the secrets of James Bond's immortality? And what are lessons that other movie series could learn from James Bond?
Top image: Detail from the concept art for the "Diamonds are Forever" poster by Robert McGinnis.
The James Bond movies are like their own genre — they conform to most of the spy-movie tropes, but they have enough tropes and enough character of their own to stand as a separate genre. I've always been a bit obsessed with the Bond movies, which are larger-than-life adventures that star a non-superpowered guy. The mixture of violence and slightly tacky elegance, like the ever-present martini and tuxedo-clad gambling, is somehow timeless and thrilling. Throw in a dash of sexploitation, awesome vehicles, and crazy villainy, and you've got a pretty great weekend DVD marathon.
Plus James Bond is one of those characters, like the Lone Ranger or the Doctor from Doctor Who, who has a few defining characteristics, but otherwise can be just a generic hero. You don't really worry about James Bond's motivations in a James Bond story — his motivation is to complete his mission and stop the bad guys. The main character has been recast enough times now that no particular actor is James Bond — each generation has its own Bond. God help us, there are people out there for whom Timothy Dalton is the definitive 007. (At left: Concept art for the "Live and Let Die" poster by Robert McGinnis and Bob Peak, via Illustrated 007.)
Still, it's pretty amazing that these movies keep chugging along, and attracting talent like Mendes, when so many other series have petered out, or else keep stopping and starting like a stalled-out Aston Martin.
So here are some lessons on longevity, from the James Bond movies:
Villains are disposable. Ernst Stavro Blofeld might be the most archetypal James Bond villain, with his white cat and his evil organization SPECTRE - but he hasn't actually appeared in a Bond film since 1981. The Soviet spy organization SMERSH didn't regroup and reinvent itself after the fall of the Cold War - it just vanished. It's like if the Batman films ditched the Joker, or Star Trek dropped the Klingons and Romulans. Instead, we've gotten hit or miss villains, like Jonathan Pryce's media mogul and Christopher Walken's Silicon Valley psycho.
Source material is occasionally helpful, but not essential. I read all of Ian Fleming's novels as a kid, and they're an equal mixture of brilliant suspense and dated weirdness - they definitely don't seem as relevant now as they did in the 1960s. The Bond films probably made the right decision when they stopped trying to follow Fleming's plots, even if they replaced those plots with some completely ludicrous weirdness. But the films still dip back into the Fleming canon every now and then, just when you least expect it - including a big chunk of Casino Royale.