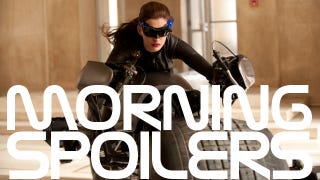 Fast Five director Justin Lin explains his Terminator 5 plans. He says he knows how to continue the franchise, and he wants to get back to what made the first two Terminator films great. Will the original Terminator be back?
Plus there are tons of hints for the futures of Fringe and Supernatural.
A new Dark Knight Rises set video reveals a Gotham City car chase.
Tom Cruise might be ready to sign on for another big budget science fiction epic.
Plus Satan gets a sidekick in Alex Proyas's Paradise Lost!
Spoilers from here on out!
Top image from The Dark Knight Rises.
Terminator 5
Justin Lin, who was actively developing a new Terminator film before deciding to focus on the Fast Five sequel, offers some cryptic clues about where he would take the Terminator franchise:
"Those first two 'Terminator' films, we have such a strong connection to it and there's always a desire to revisit anything that can cause us to feel like that. Being someone who really holds that sacred, I feel like there is a way of continuing that journey. Also with the time travel and canon there's a version there that you can do right. For me, there's still some characters and themes that were kind of promised and exhibited in those movies that we have never actually seen. Those are things that got me excited about potentially trying to crack all of that...I remember growing up and watching the first 'Terminator' films and they defined my youth in many ways. That's something I want to try to seek out and recapture...There is a way to do that. I don't want to give anything away but I have a very clear idea thematically and arc-wise where we can go."
Considering that Lin has already discussed the project at length with original director James Cameron and original Terminator Arnold Schwarzenegger, it's entirely possible that getting back to the first two movies involves more than simply capturing their spirit. In particular, Schwarzenegger's involvement with the project's development (not to mention his attempt to return to acting, which is going really well when you ignore all the sex scandals) might well mean yet another appearance by a T-800.
Of course, that's still all just speculation, and it sounds like we're a long way from anything concrete happening, as Lin also offers an update on where the project stands now:
"The timing for that is a little bit off [in the distance] but the good thing is it doesn't feel like creatively it's been compromised. I don't think anyone is trying to hurry anything. I'm hopeful it will work out but at the same time I'm going to be hard on that film if I get a chance to make it. With that franchise, that's what it deserves...It's been just great to throw that around with James [Cameron] and Arnold [Schwarzenegger]. Is time our enemy? Well, there is a ticking clock but anytime anything goes into development - with the state of filmmaking and the way films get made - you're always fighting for more time. The biggest enemy is rushing things. I don't think it should be rushed. Creatively, it will come when it comes. Passion is always the currency and it's the thing that will create momentum. If that's not there you shouldn't do it. Obviously, there's a lot of money involved and with that money the clock is going to keep ticking."
---
The Dark Knight Rises
Here's a set video of a chase scene from the Los Angeles filming. [The Cineaste's Lament]

---
We Mortals
Tom Cruise is reportedly in talks for the lead role in Doug Liman's sci-fi war epic, which was previously titled All You Need is Kill. It's unclear whether he would be starring alongside or replacing the previously rumored Brad Pitt. [The Hollywood Reporter]