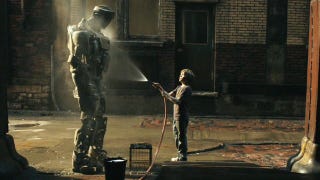 Real Steel comes from the same studio as the Transformers films, and it's clearly intended to hit the same sweet spot of computer-generated effects, fucked-up action and goofy fun.
But it's a much, much smaller movie, that doesn't have seventeen protagonists and the entire U.S. Armed Forces as extras — and unlike the last two Transformers movies, Real Steel actually manages to be fun, and worth cheering for. Spoilers ahead...
I liked the first Transformers movie a lot, although I haven't seen it since it came out. It wasn't exactly a Kurosawa movie, but it was a goofy fun ride with robots trashing a city and each other. And at the center of the first Transformers was the story of a boy and his robot, as Sam Witwicky meets and bonds with Bumblebee the cute car-bot. I'm a sucker for a story about a young person and a robot being friends, ever since I read Ted Hughes' The Iron Giant as a kid.
And that same story is at the heart of Real Steel, despite all you've heard about it just being Rocky with robots substituted for Sylvester Stallone. (As if you'd be able to tell the difference.) Rather, a lot of the story is about a boy whose father lets him down again and again, until he bonds with a beautiful fighting robot, that he brings back to life, and which in turn redeems his father.
Yes, it's a Steven Spielberg-produced film, which means there's sentimentality, daddy issues, and — spoiler alert! — a happy ending. What did you expect? This time around, though, it actually works, and the film delivers a real emotional impact along with its robot-on-robot violence.
(And there seems to have been some deft editing — I noticed that some of the schlockier scenes featured in the film's trailers, dealing with the father-son relationship, are not actually in the movie.)
What makes Real Steel better than a lot of the other similar movies is its gritty edge, and its clearly defined characters. Hugh Jackman puts a lot into making the father, Charlie, into a believable douchebag, with a lot of anger and self-loathing and an amazing talent for self-destruction. Meanwhile, Dakota Goyo, who plays Charlie's son Max, manages to be cute without ever becoming treacly or annoying, and there's an undercurrent of anger and cynicism in Goyo's performance that's pretty palpable. Most kids in movies or television annoy the hell out of me, especially if they're precocious or whiny, and Goyo totally won me over. In fact, he pretty much steals the movie, as commenter ChangoFeo says.