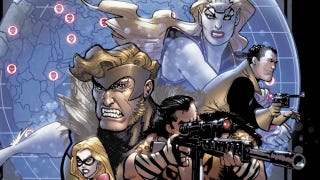 What's coming to your local comic shop tomorrow? Lost espionage tales of the Marvel Universe, a new Supernatural comic, and one of the most 1990s X-Men stories every printed. Let's dig in!
First Issues
After the big relaunch of last month, DC is introducing a raft of miniseries highlighting certain characters — this week sees the release of Huntress and Penguin: Pain And Prejudice.
A particularly wacky-looking miniseries coming out Wednesday is Howard Chaykin's Avengers 1959. This comic details Nick Fury's secret Fifties superhero team, which includes such weirdos as Sabretooth, Kraven the Hunter, and Namora.
There's a new Supernatural title penned by DMZ's Brian Wood — this issue sees Sam Winchester taking a jaunt out to the UK. IDW Publishing is also releasing a new comic based on Dungeons and Dragons: Dark Sun. Finally, Thor: The Mighty Avenger scribe Roger Langridge releases his first issue of Snarked, a madcap take on the works of Lewis Carroll.
Other Releases
A bunch of DC's better New 52 titles get their second issues this week — we're looking at you Action Comics, Animal Man, Swamp Thing, and OMAC. There's also Red Lanterns (I was apparently the only person who liked this comic) and Stormwatch (I'm still pulling for this to pick up). You can find our full rundown of DC's New 52 here and — just for kicks — here's Jim Shooter's take on Red Hood and The Outlaws (you know, that Starfire issue).