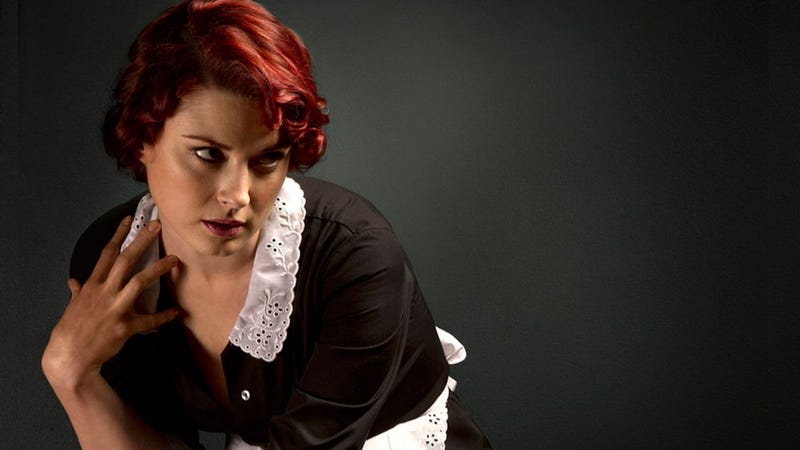 This week on television, the creators of Glee and Nip/Tuck pay homage to The Shining and Rosemary's Baby with American Horror Story. Syfy has the season finale of Warehouse 13 and the season premiere of Sanctuary.
But that's not all! Jewel Staite is a demon on Supernatural, an asteroid is on a collision course with Earth, George Washington meets aliens, and Fringe's Walter Bishop is getting closer to the truth. Plus we've got new clips from Adventure Time, Warehouse 13, Terra Nova, Star Wars: The Clone Wars, and more. It's your whole week in television, right here.
Today:
Syfy is having a Warehouse 13 marathon starting at 11 AM, re-running the whole third season to get you ready for the season finale tonight.
Cartoon Network has another big animated block tonight. First at 7 PM, there's a new Johnny Test, "Johnny Two-Face":
The twins try to stop Johnny from lying, but they all find out that sometimes the truth hurts.
That's followed by a new Amazing World of Gumball at 7:30 PM. And then there's a new Adventure Time at 8 PM, "The Apple Thief":
Finn and Jake are feeling peckish and the only one thing can satisfy their hunger is Tree Trunks' world- famous apple pie!
Check out a clip above. That's followed by Regular Show at 8:15. Then at 8:30 PM, Cartoon Network has another episode of Secret Mountain Fort Awesome, followed by a new Mad at 8:45 PM.
Or you could be watching the second episode of Terra Nova on Fox at 8 PM. It's called "Instinct," and here's what it's all about:
JIM AND TAYLOR MUST PROTECT THE COLONY WHEN IT'S INVADED BY A SWARM OF PREHISTORIC FLYING BIRDS; ELISABETH DISCOVERS A FORMER FLAME MAY HAVE RECRUITED HER TO THE PAST ON AN ALL-NEW "TERRA NOVA" MONDAY, OCTOBER 3 ON FOX. When Terra Nova comes under attack from a legion of Pterosaurs, Jim and Taylor must find a way to save the colony before it's completely overtaken. Elisabeth discovers a former flame is also living in Terra Nova and may have been responsible for her recruitment. Syke tries to make Josh feel at home and Reynolds get protective of Maddy.

Here are three clips from the episode:

The two-hour Warehouse 13 season finale, called "Emily Lake"/"Stand", is airing at 9 PM on Syfy. Here's what it's about:
Pete and Myka investigate the theft of a top-secret file from the warehouse, which brings them to a high school in Wyoming, where H.G. Wells is working as a teacher named Emily Lake in the Season 3 finale.
And here's a sneak peek from the episode.
Also at 10 PM: another episode of Castle on ABC, in which we all hope they top last week's comic-book episode.
Plus there's another episode of MTV's cops-and-zombies show Death Valley at 10:30 PM.
Tuesday:
The IFC Channel has the season premiere of Onion News Network at 10 PM, with the extremely promising title of "Asteroid Heads to Earth."
At 10 PM, CBS has another unforgettable episode of Unforgettable, "Check Out Time."
When a hotel maid is accused of murdering a guest who she says tried to rape her, Carrie takes matters into her own hands to uncover the truth, threatening Al's investigation.
Wednesday:
There's an all-new Mythbusters on the Discovery Channel at 9 PM, "Newton's Cradle":
The MythBusters are swinging for science - testing a viral video that supersizes Newton's cradle using wrecking balls to transfer energy. Kari, Grant, and Tory tackle a Hollywood classic - is a bird landing on your hood enough to tip your car off a cliff?
That's followed at 10 PM by the premiere of Penn and Teller Tell a Lie.
At 9 PM, there's also another new Ancient Aliens on the History Channel, "Aliens and the Founding Fathers." Which you have to admit is an intriguing topic.
Then at 10 PM, there's the series premiere of American Horror Story on FX, the horror show from the makers of Glee.
American Horror Story, co-created by former Nip/Tuck executive producers and current Glee co-creators/executive producers Ryan Murphy and Brad Falchuk, revolves around The Harmons, a family of three who move from Boston to Los Angeles as a means to reconcile past anguish. The All Star cast features Dylan McDermott (The Practice) as "Ben Harmon," a psychiatrist; Connie Britton (Friday Night Lights) as "Vivien Harmon," Ben's wife; Taissa Farmiga as "Violet," the Harmon's teenage daughter; Jessica Lange (Tootsie, Blue Sky, Grey Gardens) in her first-ever regular series TV role as "Constance," the Harmon's neighbor; Evan Peters (One Tree Hill) plays "Tate Langdon," one of Ben's patients; and Denis O'Hare (The Good Wife) as "Larry Harvey." Guest stars for the series include Frances Conroy (Six Feet Under) as the Harmon's housekeeper; Alexandra Breckenridge (Dirt) as the Harmon's housekeeper; and Jamie Brewer as Constance's daughter.
Watch the first five minutes of the first episode here.