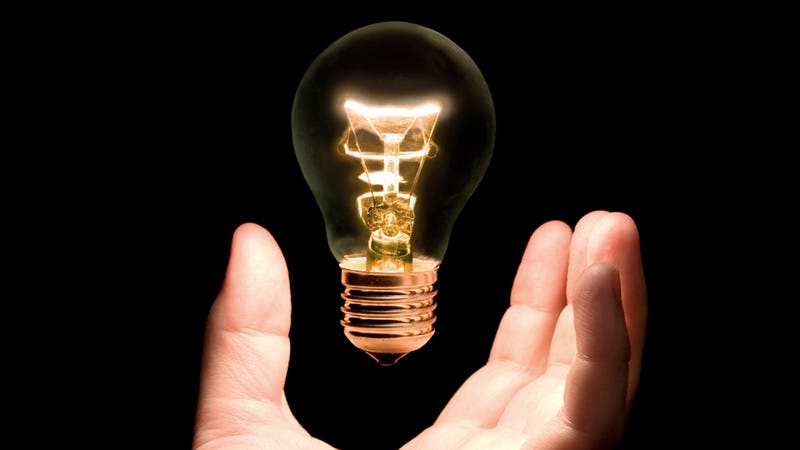 We're all familiar with some of the more famous patents in history; Thomas Edison's electric light, Samuel Morse's morse code, and Henry Ford's carburetor, for example. But sometimes genius manifests itself in the form of less... conventional inventions. Here are ten ridiculous "medical" patents, and a couple scientific ones, that you've probably never heard of.
10) Maternity suntan chair
Inventor: Shannon I. Nation
Patent number: 6295668
Filing date: May 19, 2000
Issue date: Oct 2, 2001
Sunbathing while you're pregnant can be a logistical nightmare. I mean, how are you supposed to lie on your stomach? Thankfully, someone had a stroke of genius and invented the maternity suntan chair, which incorporates a giant cutaway for your baby-belly. The design improves upon a similar concept, first conceived back in the 1930s, by including an opening for the chair-occupant's face and allowing for quick conversion into a normal (baby-belly-hole-less) lounge chair.
9) Wearable bird feeder
Inventor: David M. Leslie
Patent number: 5996127
Filing date: Jun 19, 1998
Issue date: Dec 7, 1999
Some people use binoculars to go bird watching. Those people are suckers. With the wearable bird feeder, which comprises a helmet; telescoping, helmet-mounted poles; and a variety of bird feeders, you can make nature come to you.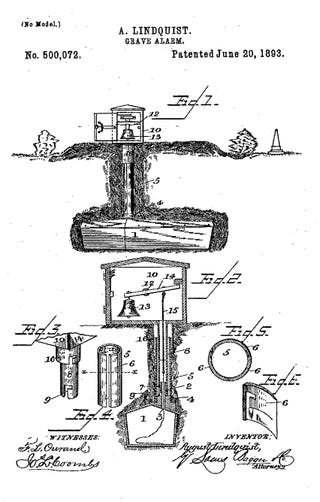 8) Grave Alarm
Inventor: August Lindquist
Patent number: 500072
Filing date: Feb 4, 1893
Issue date: Jun 20, 1893
Buried alive? Fear not; there's a patent for that. This invention comprises an air shaft, a bell, and a rope, for those (hopefully) rare occasions that you find yourself "prematurely buried before [your] life is extinct." With the new and improved grave alarm, you "can sound an alarm, thus notifying the cemetery officials of the fact" that you are not dead yet, after all.
According to the official patent description, while grave alarms had been invented in the past, none of them had thought to incorporate the (arguably most important) feature of an air shaft; so if you weren't dead when they put you in the ground, time and limited air supply would take care of that right quickly.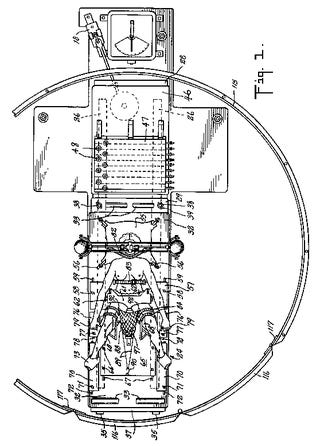 7) Apparatus for facilitating the birth of a child by centrifugal force
Inventor: G.B. Blonsky
Patent number: 3216423
Filing date: Jan 15, 1963
Issue date: Nov 9, 1965
Pretty much does what it says on the tin. Mount pregnant mom. Strap in. Spin. Fwoop: out flies baby.
Actually, not exactly. Strictly speaking, the apparatus is designed to "assist and supplement" the natural efforts of the mom, "so that such centrifugal force and her efforts act in concert to overcome the action of resisting forces and facilitate the delivery of the child." Pretty wild, but still more entertaining to imagine a fwoop scenario; I mean, it could happen, right? The image shown here is a top-down view of the contraption, but be sure to check the patent link for more angles.
6) Device for perfusing an animal head
Inventor: Chet Fleming
Patent number: 4666425
Filing date: Dec 17, 1985
Issue date: May 19, 1987
The background section of this patent describes a prosthetic device as "any device which is designed to substitute for a missing or defective part of the body." But in the case of a disembodied head, the missing or defective body part is, well, the body itself.
This invention, described by Fleming as a "cabinet," is effectively a life support system for heads, and works by performing many of the physical and biochemical functions (that are typically performed by the body) for noggins that have been "discorporated" (that is to say, severed).
The invention is presumably for an animal (despite the distinctly human look of the cranium featured in the diagram) and provides support for the head by means of a collar fixed around the neck. Sound familiar?
5) Reminder and enforcer apparatus
Inventor: Rupert W. Knierem
Patent number: 4764111
Filing date: Nov 21, 1985
Issue date: Aug 16, 1988
If you've ever worn elaborate headgear, or even just a retainer, as part of an orthodontics regimen, then you know how hard it can be to remember annoying it is to wear your tooth-straightening device. (Parents who've paid to have their kid's teeth straightened are also especially aware of this problem.)
Enter the "reminder and enforcer apparatus." It's basically an alarm system that mounts inside your mouth, and activates when it's time to put in your headgear. When a magnetic switch detects that your orthodontia has been mounted in your mouth, the alarm shuts off.
4) Use of odorants to treat male impotence
Inventor: Alan R. Hirsch
Patent number: 5885614
Filing date: Feb 23, 1996
Issue date: Mar 23, 1999
Can't foot the bill on a script for Viagra? This patent claims that combining certain odors, released in the form of aerosols or scratch-and-sniff patches, can increase penile blood flow. Some examples of stimulating scents? Lavender with pumpkin pie; and doughnuts with licorice. Patently absurd? Maybe. Worth a shot? Absolutely.