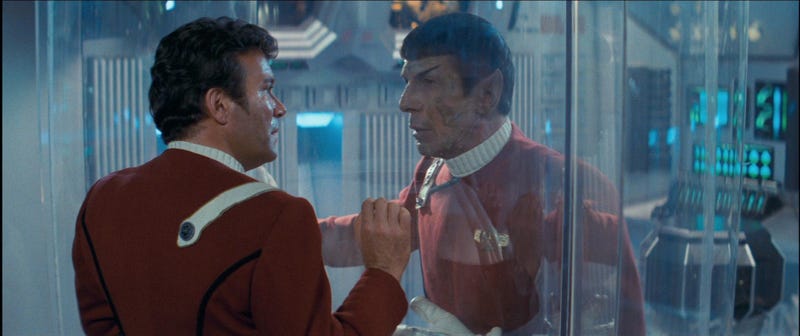 It's never great to watch a beloved science fiction hero die - but sometimes a memorable heroic death can help turn a science fiction story into a real epic. And some science fiction characters are unforgettable and bad-ass precisely because they died in a memorable way.
Here's our list of the 10 greatest deaths in the history of science fiction. Beware: Major spoilers for some old TV shows, movies and books!
10) Orolo from Anathem by Neal Stephenson.
Orolo sacrifices his life in a really cool and noble way, to help the pursuit of knowledge and to help the people of Arbre to understand the alien ship in orbit. One of the aliens has been shot down on the planet, bringing along blood from all the different humanoids on the ship, and the people on the ship ignite a volcano to destroy her ship. Orolo gives up his spot on the evac helicopter to hand someone the body of the alien and stands there, being engulfed in lava:
"No!" I screamed one more time, as Orolo withered under the pressure wave. He flopped to the ground like a hank of rope. For a moment, smoke shrouded him: radiant heat shining out as a harbinger of the glowing cloud. Our aerocraft rocked and skidded sideways on hard air. The cloud erupted from the gates, vaulted over the rubble of the wall, and fell onto Orolo. For a fraction of a second he was a blossom of yellow flame in the stream of light, and then he was one with it. All that remained of what he'd been was a wisp of steam coiling above the torrent of fire.

9) Woody in Mission To Mars.
This is a pretty terrible movie overall, but a fantastic death scene. Our heroes have to abandon their vessel. And then Woody, played by Tim Robbins, leaves the others and launches himself at the Resupply Module (REMO), but after he attaches the line from the other astronauts at the REMO, he keeps moving towards the planet. His wife, Terri, wants to go after him, but Woody knows she'll die in the rescue attempt. So he takes off his own helmet and dies of depressurization, rather than let her die for him. (Thanks to Meredith for the suggestion!)

8) Lt. Paul Wang from Space: Above And Beyond.
"Everybody's favorite tortured bipolar guy," Lt. Wang, callsign "Joker," gives his life to hold off the aliens while everyone else gets away. "This is for you!" he shouts as he pours ammo into the enemy. Commenter oconnellmd suggested this scene, and I can see why.