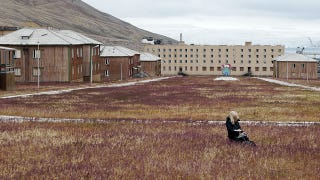 To paraphrase everyone's favorite chaos theorist from Jurassic Park, "Life finds a way." Indeed, that old chestnut is applicable to the following ten destinations, where animals have found a home in areas humans once tread. Remember, if you want to keep poachers out of your nature preserve, surround it with land mines.
1.) The Seagull City of the Arctic
We recently saw how marine birds have colonized the dilapidated apartment buildings of the former Soviet mining town of Pyramiden. But the seagulls aren't the only ones roaming Pyramiden's empty thoroughfares — according to recent visitors, polar bears will day trip through this ghost town.