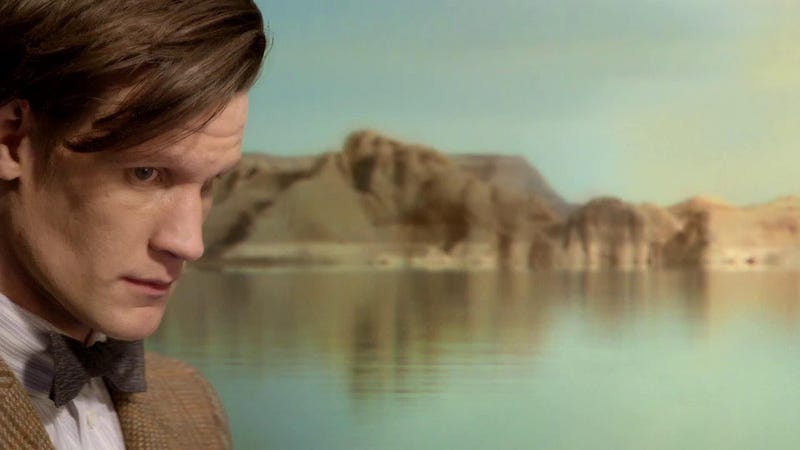 Doctor Who ends its sixth season with a bang this weekend — but can the Doctor possibly survive? Meanwhile, Steven Spielberg's Terra Nova plunges the Shannon family into a prehistoric jungle of death.
Also new this week: Bedlam, a BBC show about a haunted housing development, and Secret Mountain Fort Awesome, about the monsters that live underground. Plus there are new episodes of Adventure Time, Fringe, Supernatural, Person of Interest, and tons more. Click through to check out a ton of sneak peeks — including your first look at an epic lightsaber battle in Star Wars: The Clone Wars.
Today:
Syfy is showing Alphas episodes from 11:30 AM to 10 PM, to get you ready for the big season finale.
Cartoon Network has an abnormally huge burst of animated shows. First at 7 PM, there's a new Johnny Quest, "Johnny of the Deep":
Bling Bling uses a ring to hypnotize Susan to fall in love with him, then whisks her off to his yacht. Johnny and Dukey transform into sharks to search for the ring and destroy it, getting help from a retired underwater action hero.
That's followed by a new Amazing World of Gumball at 7:30 PM. And then more importantly, there's a new Adventure Time at 8 PM, "What Was Missing":
Finn and Jake battle with a powerful door lord.
That's followed by Regular Show at 8:15. Then at 8:30 PM, Cartoon Network has a brand new show, Secret Mountain Fort Awesome, about
a gang of awesome monsters that live deep underground. Shunned by humankind because of their gross appearance and radical behavior, they are forced to live together in a place known only as Secret Mountain Fort Awesome. This mega-rad group does some crazy stuff like steal the sun, fight a heavy metal tooth fairy and take baths with CGI sharks!
And finally, there's a new Mad at 8:45 PM, featuring Cowboys and Aliens and Thundercats parodies. Watch a clip at left.
But also at 8 PM, Fox has the two-hour premiere of Spielberg's huge time-travel/dinosaur show, Terra Nova, "Genesis, Part 1 and 2." Yes, it's two hours devoted to your favorite 1970s and 1980s supergroup. Phil Collins plays himself. Here are the details:
TERRA NOVA follows an ordinary family on an incredible journey back in time to prehistoric Earth as part of a daring experiment to save the human race. The Shannon family joins the Tenth Pilgrimage of settlers to Terra Nova, the first colony established in this beautiful yet foreboding land. Jim Shannon, a devoted father with a checkered past, guides his family through this new world of limitless beauty, mystery and terror. Jim's wife, Elisabeth, is a trauma surgeon and the newest addition to Terra Nova's medical team. Josh is their 17-year-old son who is torn to leave life as he knows it behind; upon arriving at the settlement, he finds himself instantly drawn to the beautiful and rule-breaking Skye. Maddy, Josh's endearingly awkward 15-year-old sister, hopes Terra Nova will give her a chance to reinvent herself. Although Elisabeth's medical training secured the family a spot on the pilgrimage, a secret involving their five-year-old daughter, Zoe, soon endangers their place in this utopia. Upon the Shannons' arrival, they are introduced to Cmdr. Nathaniel Taylor, the charismatic and heroic first pioneer and leader of the settlement. Taylor warns the travelers that while Terra Nova is a place of new opportunities and fresh beginnings, all is not as idyllic as it initially appears. Along with blue skies, towering waterfalls and lush vegetation, the surrounding terrain is teeming with danger - and not just of the man-eating dinosaur variety. There is also a splinter colony of renegades led by the battle-hardened Mira, who is vehemently opposed to Taylor and his leadership.
And then at 10 PM, there's the season finale of Alphas, "Original Sin":
Rosen and his team must choose sides when Red Flag launches a full-out assault on the Department of Defense.
Check out a sneak peek.
Also at 10 PM: another episode of Castle on ABC, quite possibly including some number of science fiction in-jokes.
Plus there's another episode of MTV's cops-vs.-the-undead show Death Valley at 10:30 PM.
Tuesday:
At 10 PM, CBS has another episode of Unforgettable, a police procedural about a woman who can freeze-frame and zoom and enhance her memories. How on Earth are they going to make this gimmick work in an episode where she's not dealing with a crime she personally witnessed part of? Here's your first clue, in the episode's synopsis:
CARRIE MUST FACE HER PAST WHEN A LITTLE BOY IS THE ONLY WITNESS TO A MURDER. When a young boy witnesses a murder, Carrie must put aside the memories of her sister's death to help him lead the police to the killer.
Ah, little kids. They make everything better.
Wednesday:
Mythbusters is back for its tenth season! The season premiere is called "Bikes and Bazookas," and I'm just guessing that means something will be getting blown up.
At 9 PM, there's also another new Ancient Aliens on the History Channel, in a new timeslot. This time: "Aliens and Evil Places."
At 10 PM in most markets, PBS has a new Nova, "Surviving the Tsunami."
Gripping personal stories from Japan offer lessons on how to act in the face of a life-threatening disaster.
At 10 PM, Science has another episode of Dark Matters: Twisted But True, hosted as always by Fringe's John Noble. Segments include "Missing Cosmonauts" and "Sound of Death."
Thursday:
There's another new episode of The Vampire Diaries on The CW at 8 PM, "The End of the Affair."
THE ROARING TWENTIES - Klaus (Joseph Morgan) and Stefan (Paul Wesley) arrive in Chicago, where Stefan is reunited with a vampire (guest star Claire Holt, "Pretty Little Liars") who hasn't really moved on from her interest in him decades earlier. In a flashback to Chicago in the 1920s, Stefan comes face-to-face with a shocking chapter from his wild past. After Damon (Ian Somerhalder) gets a tip on Stefan and Klaus' whereabouts from an unexpected source, he and Elena (Nina Dobrev) follow their trail. Back in Mystic Falls, Tyler is concerned about Caroline and turns to Sheriff Forbes (guest star Marguerite MacIntyre) for help.
Also at 8: another episode of Community on NBC — can they possibly top last week's Doctor Who and 2001 spoofs?