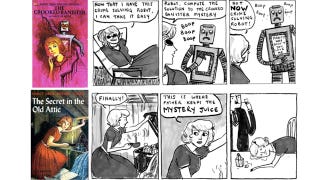 If you've spent any time perusing webcomics, chances are you've encountered cartoonist Kate Beaton's historically inclined series Hark! A Vagrant.
In this hilarious series, Beaton explores topics ranging from Queen Elizabeth's ability to transform into an albatross to Dark Ages dating rituals to Jean Valjean/Javert slash fiction.
On the eve of the release of her new book, Beaton — who you may remember from the apocryphal adventures of Doctor Who — filled io9 in on all things Vagrant.