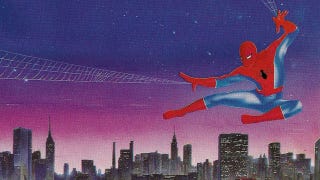 Next summer, Spider-Man gets a fresh start, with a brand new reboot starring Andrew Garfield. But this won't be just a second chance for Spidey — the web-slinging hero has had plenty of seconjod and third chances on the big screen already.
From the early 1970s to the mid-1990s, Spider-Man has gone through countless attempts at creating a big-screen success, with people as diverse as Roger Corman and James Cameron involved. Here's the secret history of the Friendly Neighborhood Spider-Man in movies.
Top image: Promo art from the Cannon Group's Unfilmed Spider-Man movie, via Video Junkie.
It's hard to believe now, but there was a time when Marvel Comics looked at the Howard the Duck movie and wished they could get something that good for their other characters. Not that Howard was a great movie, but at least it had a decent budget. For other Marvel characters, the publisher was constantly stuck dealing with smaller production companies that cut corners.
1975-1976: Steve Krantz
Krantz, one of the producers of the 1960s Spider-Man cartoons along with Fritz the Cat, tried to launch a live-action Spider-Man movie in the mid-1970s, according to the book Stan Lee and the Rise and Fall of the American Comic Book by Jordan Raphael and Tom Spurgeon. Originally, Krantz wanted to make a splashy action-fantasy musical — perhaps not that different from Spider-Man: Turn off the Dark?
But eventually, Krantz realized that a more straightforward approach to Spidey would be more successful — and in 1976, he was pitching the studios with an outline that involved a college-age Spider-Man fighting a 100-foot-tall robot, plus Nazis. And it included the death of Gwen Stacy. Sadly, it never got off the ground.
1977-1978: Columbia Pictures
And then there was the disco-era Spider-Man TV series, which started out as a made-for-television movie that was released theatrically in some countries, about a grown-up Peter Parker who gets spider-based superpowers. A new-age guru is mind-controlling people to become criminals. And the guru threatens to make 10 New Yorkers commit suicide, unless he gets $10 million. So Spider-Man invents web shooters and swings into action against the guru and his army of samurai. Sure, why not? You can watch the whole thing right here.
After the TV show was on the air, some other episodes were edited together and released theatrically. There was Spider-Man Strikes Back (comprising the two-part "Deadly Dust" storyline) and Spider-Man: The Dragon's Challenge (the "Chinese Web" storyline). In the former, Peter Parker's students accidentally gain the materials to create an atomic bomb. In the latter, Spider-Man goes to Hong Kong to save a Chinese politician accused of corruption, resulting in a boat chase and lots of clunky action.
1982: Roger Corman
The producer of countless low-budget classics — including the legendary original Fantastic Four movie — also nearly made a Spider-Man film. Orion Pictures had the rights at one point, but to Corman's dismay, let the rights expire.