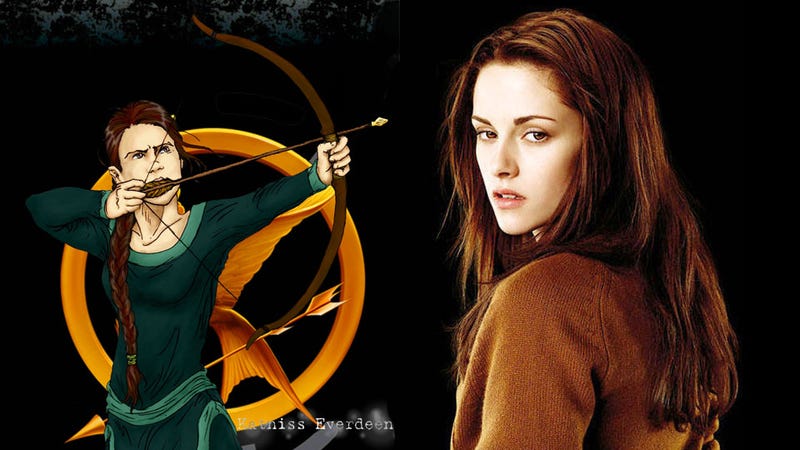 Next year, the Hunger Games movie series begins and the Twilight movies end. It's sort of a passing of the tween torch, from vampire angst to post-apocalyptic deathmatches. And no doubt, Hunger Games will be hoping to capitalize on the Twilight audience.
But the truth is, Hunger Games is light years better than Twilight. And let's hope that Suzanne Collins' dystopian saga becomes more popular on screen than Stephenie Meyer's vampire romance. Here are all the reasons why Hunger Games fills Twilight full of arrows and then lights it on fire. Spoilers ahead...
Top image of Katniss Everdeen by Eeri Wyatt at Deviant Art.
In case you've missed both books, here's a quick synopsis. In Twilight, vampires and werewolves are real, and a girl named Bella falls in love with a mysterious vampire, eventually marrying him and bearing his half-vampire baby. In The Hunger Games, it's a horrible oppressive future and the evil government forces people in the "Districts" to send two young people as "Tributes" to compete in an arena of death, to remind them of the costs of rebellion. A young girl named Katniss fights in the Hunger Games and eventually becomes a symbol of defiance.
So let's break down the differences:
The Heroines
Bella Swan is a quiet, introspective girl who always stood at the back in her ballet recitals, until she meets a hot vampire named Edward and becomes obsessed with becoming a vampire and getting some hot vampire love. Bella's always got a bit of a deathwish — her first statements in the book are about imagining her own death, and later she goes cliff-diving when Edward leaves her.
Meanwhile, Katniss is an awesome hunter who is already skilled with the bow and arrow at the start of the first book, and who volunteers for the Hunger Games in order to spare her sister. And then wins due to raw cunning, courage and heart — becoming a symbol of resistance to the totalitarian Capital in the process.
There's a whole blog devoted to what a weak, self-centered character Bella is. As one reader tells Today.com, Bella "comes across as a weak, boring thing who always needs to be rescued" She's in a co-dependent relationship with Edward, who tries to control her and take her away from everyone and everything else in her life. Or just read our own Kaila Hale-Stern's explanation of the books' anti-empowerment message.