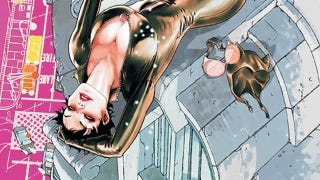 In this week's offerings from DC, the clear winners were two of the Big Three. And on an unrelated note, Catwoman's rack.
Let's tier these suckers - comics will be judged on quality, overall accessibility, and whether or not I fell asleep midway through reading. Some spoilers ahead.
Upper Tier
Wonder Woman has had a convoluted history as of late, Heck, she received a new jacket origin story last year. But writer Brian Azzarello and artist Cliff Chiang (who once drew the best Elseworlds doodle of Wonder Woman) smartly pare her down to the basics. In the new Wonder Woman, the reader can know bupkis about the her and still enjoy how she's a no-nonsense ass-kicker who wrangles with centaurs. Azzarello also plays up how monstrous creatures of Greek myth would appear in modern life. This book is weird and worth your while. We'll be talking to WW's creative team later today, so stay tuned.