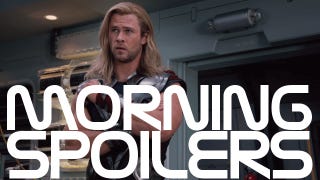 Seth Gabel reveals how Lincoln Lee will fit into Fringe. The first official details are revealed for the Doctor Who season finale. Plus set photos and videos galore for The Dark Knight Rises, Man of Steel, Fringe, and Cloud Atlas!
All that, plus Clark Gregg promises he'll see some serious action in The Avengers, Bruce Campbell reveals Ash's role (or lack thereof) in the Evil Dead reboot, Chloe Moretz talks up a return to Kick-Ass, plans are already underway for a Real Steel sequel, an X-Men actress comes to Chuck, and The Walking Dead executive producers reveal nothing is too gory for their show... yet.
It's spoilers all the way down!
Top image from The Avengers.
The Dark Knight Rises
Here's a bunch of awesomely scored and captioned set videos from the Los Angeles filming. [SadPuppyProductions via The Cineaste's Lament]

Here are some more set photos, also from LA. [Comic Book Movie]
Here's a collage of set photos featuring Christian Bale and his stunt double, both in full Batman regalia. You can click on the image for a better look. [Shockya]
A shooting schedule posted for the Los Angeles filming mentions, among a huge host of other special effects, two rather interesting details: "Truck Drop from Upper Grand" and "Aftermath of crashed truck scene." So, for anyone hoping for a chase scene to match the epic one in The Dark Knight (which may be completely nonsensical, but frankly I couldn't care less), you may be in luck. [Comic Book Movie]