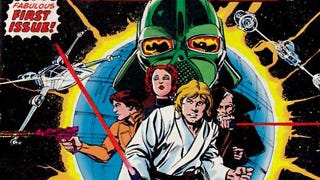 The late 1970s were a bad time for comics - declining sales and new forms of media were coming into the limelight, and the local comic book shops were suffering. But then Marvel adapted Star Wars and everything changed. This is the story of a comic book industry without hope, saved by guerrilla marketing, a small group of rebels at the first San Diego Comic-Con movie panel — and a bestselling comic book called Star Wars.
A Dark Time for Comics
It was a time when Amazing Spider-Man, Marvel's best-selling title at the time, was only selling 280,000 copies of 590,000 printed. Though a few comic book shops were open at the time, the direct comics market was essentially non-existent, and every comic that didn't sell on the newsstand could be returned for credit. This was a dark time for comics – DC was months away from it's "Implosion", in which the company would cancel thirty-one of its titles abruptly in late 1978.
Marvel wasn't doing much better as an organization, as later Marvel Editor-in-Chief Jim Shooter would say:
Marvel was a mess throughout the mid-1970's and during my two years as "associate editor," from the beginning of 1976 through the end of 1977. Almost every book was late. There were unscheduled reprints and fill-ins, and we still just plain missed issues here and there. Many books, despite my best efforts to shore up the bottom were unreadable. Not merely bad. Unreadable. Almost all were less than they ought to be. [...] Upstairs, the cheesy non-comics magazine department was losing millions. It seemed like the company as a whole was in a death spiral.
Roy Thomas Brings Star Wars to Marvel
After an unsuccessful pitch to Stan Lee, who wanted to concentrate on comics featuring original characters instead of licensed ones, Charlie Lippincott and Ed Summer (owner of the Supersnipe Comic Art Emporium, a comic shop of which George Lucas was a silent partner) pitched Star Wars to Roy Thomas. Thomas was a long-time Marvel writer and former Editor-in-Chief who brought the Conan the Barbarian, another licensed property, to Marvel. Conan was also written by Roy Thomas, and sold nearly as many copies of Amazing Spider-Man at the time, consistently beating Marvel stalwarts like Avengers and Fantastic Four in sales.
Roy Thomas championed the Marvel adaptation of Star Wars after Lipincott showed him McQuarrie's concept art for the movie. Thomas saw Star Wars as an exciting return to fantasy comics. The Star Wars adaptation rights also had an added benefit - they were free. As Roy Thomas told io9:
The Star Wars people didn't ask for any money for the adaptation […] I went with it because it was free. They might have asked for money for the rights when they first approached Marvel and were turned down. By the time they came to me, money wasn't a big factor – they either wanted the book done (on our terms) or they were not going to get the book done.
The only stipulation that Lucasfilm put forth regarding publication would be that the first two issues of the adaptation be on newsstands prior to the theatrical release of the movie, in order to drum up publicity for Star Wars.
The First San Diego Comic-Con Movie Panel
Using camera stills, concept art, and several iterations of the Star Wars script, Roy Thomas and Howard Chaykin crafted the story and visuals that became the Marvel adaptation, printed as Star Wars #1 through #6. The duo did not see a cut of the movie until the first and second issues were at the printers, leading to the inclusion of the scenes that were not in the final cut of the movie, such as the conversation between Biggs Darklighter and the glimpse at the quieter life Luke had on Tatooine with his friends, Fixer and Cammie.
As part of promotion for the comic and the movie, Roy Thomas , Howard Chaykin, and Lucasfilm Marketing Director Charles Lipincott also gave what is possibly the first San Diego Comic-Con panel about an upcoming movie. About this non-descript panel that took place roughly nine months before the release of Star Wars, Roy told io9:
I don't think we had any stills from the movie – I think it was just the poster that Howard Chaykin. We had the Star Wars t-shirts we were wearing, and we had copies of the poster, which we were selling for a buck, and we just talked about the movie. We could have shown some McQuarrie production drawings (during the slide show), and I just didn't realize it since I had seen them several times before, but I'm not sure if 20th Century Fox would have wanted those shown to the public.
A Million-Issue Seller
Star Wars #1, after an initial print run, went on to sell over a million copies through reprints, essentially turning a free, six-issue adaptation of a movie into a comic that had four times the sales of their current top title, Amazing Spider-Man. James Galton (then president of Cadence Industries, the parent company of Marvel Comics at the time) was extremely grateful for this success, as Thomas told io9:
(James) told several people that he should give me his regards, because I had made him rich. He felt that getting Star Wars at that time (was extremely helpful financially). I didn't know Marvel was in such financial problems at the time because I wasn't paying attention to sales after stepping down as Editor-in-Chief two or three years prior. I really wasn't aware of how things had eroded, but there were the little things, like the creeping up in cover price. The book evidently came out and helped Marvel out at a very important time when things were very iffy for them.
Jim Shooter, Editor-in-Chief of Marvel Comics during the 1980s, would speak less humbly of Roy's astounding work and foresight, saying,
He willed it (the Star Wars adaptation) to happen. Nobody else wanted to do it. This was before I was Editor-in-Chief; I hope I would've had the sense to listen to him.[...] Star Wars was a tremendous hit and kept the company alive during a very tough time. That book kept the company going.
Paving the way for DC and Marvel to Produce Licensed Comics
Marvel followed up on the success of Star Wars by giving more newsstand space to licensed properties, yielding extremely successful Battlestar Galactica, G.I. Joe, Indiana Jones, and Transformers ongoing series along with adaptations of Dark Crystal, Labyrinth, and Dune in the 1980s. DC embraced the movement to licensed comics to a lesser extent, due to their significantly lower market share at the time, but DC Comics did produce a variety of licensed comics with Atari. DC Comics' parent company Warner Brothers also benefited from the success of the Superman movie franchise and the Wonder Woman television series, leading DC to move to the forefront in licensing their characters for other forms of media. DC solidified their comic offerings over the past three decades, interestingly enough with the help of Roy Thomas, who would later sign an exclusive contract with DC in the 1980s, leading to Marvel and DC jockeying for the lead position in sales and market share each month in your local comic book store.