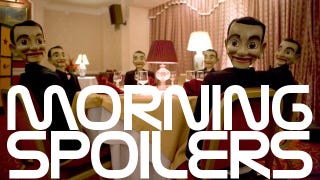 John Noble drops a crucial hint about Peter's return to Fringe. Chloe Moretz puts Dark Shadows in the proper Tim Burton context. Plus new set videos and photos for The Dark Knight Rises, Man of Steel, and R.I.P.D.!
Spoilers from here on out!
Top image from Doctor Who.
The Dark Knight Rises
Here are some Los Angeles set videos, featuring Christian Bale, Anne Hathaway, and various vehicles. [The Cineaste's Lament]

Joseph Gordon-Levitt explains why we should avoid all information about the movie that doesn't come direct from Christopher Nolan. (Yeah, about that...) Basically, he argues we're already experiencing the story just by reading Nolan's official press releases. Here's the full quote:
I can tell you that one of the things I admire most about Mr. Nolan is that he understands that the story begins before the movie does. He's already telling the story that he's got cooked up. He's a master storyteller. Every little bit of information he lets out, he does it at the proper time. Far be it for me to preempt the rhythm of his. I love that people are excited about it. I guarantee, as an audience member, one will have the best experience if one just trusts him.
But then, is the fact that he shot so much of the film in public areas in Pittsburgh and Los Angeles part of that storytelling? Did he want us to see the big fight scenes and whatnot being made? Did he actually plan the backlash? Am I part of the movie right now just by reporting this? How many levels are there!? You know what, I'm going to go watch Inception again, see if I can't work this all out. [The USA Today]