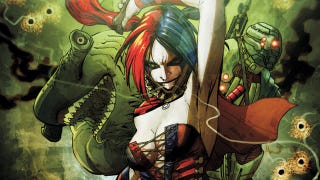 We're into the second week of the DC relaunch! In these offerings, the DC Universe's supporting cast won the day.
Let's tier these suckers - comics will be judged on quality, overall accessibility, and whether or not I fell asleep midway through reading.
Upper Tier
We really dug Jeff Lemire's first issue of Animal Man, and Lemire spins more magic with Frankenstein, Agent of S.H.A.D.E. This issue is unadulterated high concept weirdness — Frankenstein is a priggish secret agent with an elementary-schooler boss who lives in a three-inch-tall flying globe — but it's all so breezy. This is the kind of comic where Frankenstein screams at a schoolgirl about his marital problems with Ms. Frankenstein. Give this man a raise!