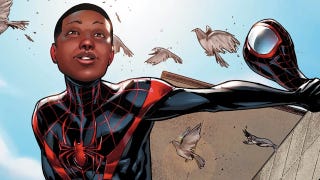 What's on the stands this Wednesday? A new Spider-Man swings over New York City, Etrigan and Batwoman debut in the DC Universe, and vulgarity-drunk space demons throttle each other in a hellish extradimensional desert. Business as usual!
First Issues
The second week of DC's September relaunch kicks off. Among the titles we're looking forward to are J.H. Williams III's Batwoman, Paul Cornell's Demon Knights, Jeff Lemire's Frankenstein Agent Of S.H.A.D.E., Peter Milligans' Red Lanterns, and Dan Abnett and Andy Lanning's Resurrection Man.
Other DC relaunch titles on the stands are Batman and Robin, Deathstroke, Green Lantern, Grifter, Legion Lost, Mister Terrific, Suicide Squad, and Superboy.
Another two scifi stalwarts are getting fresh starts this week. The first issue of Buffy The Vampire Slayer: Season 9 sees our hero adjusting to life in San Francisco without the glitz of superpowers. And in Ultimate Comics Spider-Man, new Spider-Man Miles Morales assumes the mantle of the Ultimate Universe's resident webslinger.