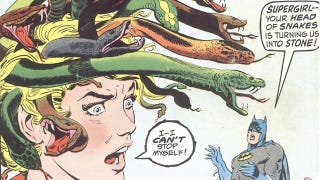 Supergirl has generally been depicted as Superman's down-to-Earth cousin, but that doesn't mean she has daily trials that you and I can barely relate to.
Here are some of her day-to-day challenges that make our mortal problems look like a game of Tiddlywinks.
1.) Superman's unnerving comments about cousin love
One time Supergirl traveled to a Christmas party in the future in hopes of finding Superman a girlfriend. After setting him up with a married woman, she returned to present (1962!) with Clark Kent, where he lectured her about Kryptonian incest laws. Worst Christmas ever? Does Supergirl even celebrate Christmas?
(Action Comics 289)
2.) Lack of real estate in Superman's City of the Future
Seriously, there's Superboy's Home and a craft shop and whatever the hell "The Bizarro Playground" is. Maybe you shouldn't have ruined Future Christmas.
(Artwork by Neal Adams, via.)
3.) Your hair occasionally turns into snakes
I seriously can't remember why Hawkman really wanted to see Supergirl's hair, but I'm guessing they were having a competition involving shampoo or something.
(Supergirl 8)
4.) Your horse falls in love with you
We've covered this before, but it bears repeating. Supergirl's horse was in love with her. On an unrelated note, Supergirl's merman boyfriend? Class act.