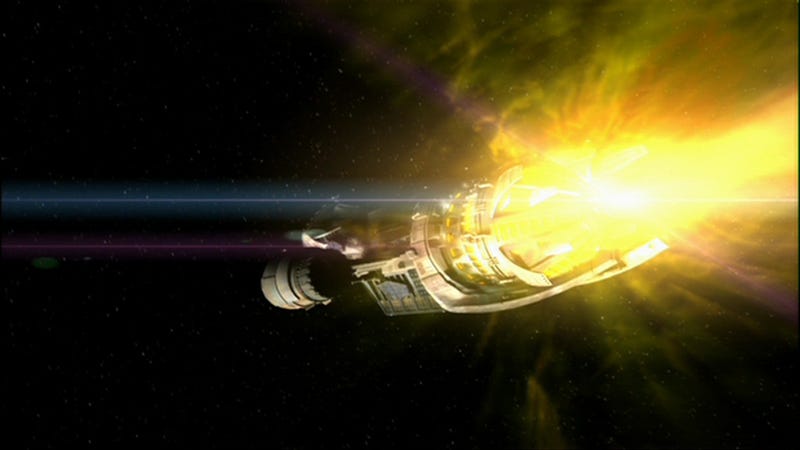 The fall TV season is beginning, and that means one thing — you're finally going to get to see the TV pilots that the networks have been sweating over for a year. Most of them will totally suck — even if the shows they launch wind up being good. But a few of them will be amazing, full of killer action and interesting characters.
The best TV pilots are like tentpole movies — that also manage to be the first chapter of a weekly story. Especially now that studios are willing to spend movie money on pilots, the results can be astounding. Here are some TV pilots that, for our money, are as good as most summer tentpole movies.
Note: We won't include any pilots that haven't aired yet in the list below. For our money, though, The River is right up there, a perfect "found footage" horror movie. Jonathan Nolan manages to make the Person of Interest pilot feel very reminiscent of The Dark Knight. And Terra Nova definitely has a Spielberg feeling, with fantastic special effects.
So here are the pilots that feel like they could be summer tentpole movies:
Lost
This one is sort of a gimme. At the time, it was the most expensive TV pilot of all time, although it's since been surpassed by Boardwalk Empire and possibly some others. J.J. Abrams was just on the verge of breaking into feature film direction, and this pilot feels like a proof of concept. The staging of the plane crash and the chaos on the beach are pure widescreen insanity — but the pilot also does a great job hooking us into the show's main characters and manages to be intimate at the same time. Jack Shephard has never been a more engaging protagonist, and you have to admit you'd have paid $8 (or whatever tickets were back then) to see this in theaters.
Terminator: The Sarah Connor Chronicles
When you're making a followup to two of James Cameron's most successful, beloved movies, you kind of need to launch with something that lives up to that huge big-screen feeling. And the pilot for the Sarah Connor Chronicles does not flinch from that challenge. From the opening dream sequence to the first real Terminator attack to the bank-vault standoff, this is a terrific action movie that raises enough questions to keep you guessing. No wonder that it's directed by David "King of Pilots" Nutter. (More on him in a moment.)
Fringe
Coming on the heels of Lost, this episode clearly aims to copy that show's blockbuster action formula — there's even another plane crash and another set of creepy mysteries. But instead of being basically a "survivors on a mysterious island" movie, this pilot is a creepy horror movie in which people melt and scientists who are guilty of unspecified crimes are locked up in mental institutions. And the only way to find out the truth is to go inside someone else's mind, The Cell-style. Update: A few people in comments have said this pilot left them cold, and I have to admit it wasn't my favorite either, at the time. I think my love for what Fringe has become might have been influencing me unduly. I do love John Noble's performance in this pilot, though.
Virtuality
This pilot actually did air as a TV movie, and it's one of the best depictions of life in space in the past few years. It's got a bit of the feeling of Sunshine and Silent Running and other great movies about space exploration, and even though the "virtual reality" subplot feels like it could become incredibly annoying if this show had become a series, it's done with enough style and verve in the pilot to work really well. The pilot also packs enough shocks and weird twists to keep you wondering what the hell will happen next — it's like that James Spader/Angela Bassett movie Supernova, only a lot cooler.
Global Frequency
It's like the greatest comic-book movie we never got to see in theaters. Genre MVP Michelle Forbes is absolutely note-perfect as Miranda Zero, and Warren Ellis' vision of clandestine hackers and spies making the world a better place is translated into a great slice of cyberpunk intrigue.
Firefly
This is another gimme — "Serenity," the original Firefly pilot, is a great war movie and a great cowboy movie and a terrific space action movie, with so many terrific character moments and enough artful camera work that you really believe that you've lived through the Battle of Serenity and you're now living with Mal on the edges of the system.
Battlestar Galactica
From the chilling opening sequence where a Cylon shows up at the diplomatic satellite and kills the random Colonial officer to all Hell breaking loose, the first episode of the rebooted BSG miniseries is like a perfect war movie as well as a beautiful A.I. drama. I'm not sure if this counts as a pilot, per se, but I'm throwing it in there anyway.
Chuck
This might be the best movie McG ever directed. If you've just watched Terminator Salvation and you're feeling queasy and full of hatred for Mr. Nichol, go ahead and track down a copy of the Chuck pilot — it's a pure slice of comedy action greatness. You'll find yourself remembering that McG also directed the excellent first Charlie's Angels movie, which this pilot is every bit as good as. It's splashy and fun and silly, and the whole ninja fight where Morgan keeps throwing things at the ninja, who deflects them so they hit Chuck, is pure gold. (And then the ninja turns out to be Sarah, who goes on a date with Chuck where she's strapped with every weapon ever invented!)
The Walking Dead
Frank Darabont, a great movie director in his own right, directed the pilot of this series and created a perfect nugget of creepy television. As we wrote in our recap at the time, "The shattered picture frames, urban decay, and total lack of zombies in the show's opening credits reflect the fact that The Walking Dead is very much a show about humans forced into inhuman situations." Andrew Lincoln is instantly a great protagonist as Rick Grimes, and this opening episode is the perfect zombie movie. (Thanks for the reminder, Belabras!)