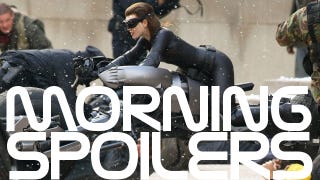 New set photos for Christopher Nolan's final Batman movie reveal that even if Batman is now at odds with the Gotham police, his alter ego Bruce Wayne is still with them... and even hanging out with Joseph Gordon-Levitt's Officer John Blake!
Meanwhile, plans are firmed up for a Romanian mine to play a very special cave... but that might not be the only location the country contributes.
The Wolverine might not start shooting until next summer due to Hugh Jackman's new musical commitments.
Rumors are flying around for the new Doctor Who Christmas special... including the latest round of crazy claims that a previous Doctor will show up.
Spoilers from here on out!
Top image from The Dark Knight Rises.
The Dark Knight Rises
[gallery 5839163]Here are some set photos from the Los Angeles filming, including some shots of Joseph Gordon-Levitt with Christian Bale in a police car. It's interesting to see so much interaction between Bruce Wayne and the Gotham City police, considering they unofficially went to war with Batman at the end of The Dark Knight. This might suggest that Bruce Wayne and Batman will actually have to be publicly at odds with each other in the movie... or, you know, maybe Bruce just need a ride somewhere, and he's so obscenely rich that he can make a random beat cop drive him around.
Also, it's looking increasingly likely that Gordon-Levitt really is playing a cop and not some top-secret villainous role - as had been rumored for what feels like the past twenty years - at least if all these set photos of him doing police-like things are anything to judge by. More pictures at the link. [Comic Book Movie]
Here are some more set photos of Christian Bale and Anne Hathaway filming scenes together in Los Angeles. More at the link. [JustJared]
Finally, here's a bunch of set videos.

Various Romanian officials appear to confirm that the production is coming to their country to film in the Salina Turda Salt mines, which were previously reported as a mooted location for the new Batcave. There's also talk that the Romanian capital Bucharest will see some filming, reportedly at the People's Palace and Centrul Vechi (Old Town Lipscani), although it's unclear how they would fit into the film. Weirdly, the report says filming won't happen until "mid-Spring", which I've got to think has to be an error of some sort. [Bucharest Expat]
CSI: Miami costar Adam Rodriguez has reportedly been cast in a small role in Christopher Nolan's final Batman movie. You know, in some alternate reality, that sentence reads, "CSI Miami star David Caruso has reportedly been cast in a huge role in Christopher Nolan's final Batman movie." Honestly, I'm not sure which is the good universe and which is the evil one.
---
The Wolverine
Producer Lauren Shuler Donner reaffirms that this will be a standalone movie without much connection to the previous Wolverine, as was the plan with original director Darren Aronofsky. She also explained the current plan for shooting:
"I'm not sure when we'll start. Maybe summer 2012 we'll start shooting. It's based on Hugh's schedule, frankly. When he's available, we'll film. ...He's doing 'Les Miserables', and then he has to come and train for us. So it's all dependent on him."
[Hitfix]
---
Deadpool
She also confirmed that Ryan Reynolds is still attached to do this movie, and that she couldn't see anyone else taking on the role. She gave this update on the current state of the project:
"We're working on getting it ready, and presenting some things to the studio, cause we're gonna give it a little bit of a different look. It's a different kind of movie. If you know 'Deadpool'...it's true to 'Deadpool'. So you know, it'll be violent, and outrageous, and funny, and all that. So we're sort of putting it all together now."
[Hitfix]
---
Real Steel
Here's a new trailer.

---
364
Ron Howard will reportedly direct this superhero drama by Safe House writer David Guggenheim. Here's a description:
The title refers to the number of days in a year that a normal guy spends each year figuring out the heroic deeds he will perform on the one day each year that he has super powers.
[Deadline]
---
Breaking Dawn
Here's a pair of teaser posters. [ComingSoon.net]
---
Doctor Who
Here's a bearded Arthur Darvill introducing next week's episode, "The God Complex" by Toby Whithouse.
[Life, Doctor Who, and Combom]

And here's the trailer for the episode. [Life, Doctor Who, and Combom]

Production reportedly began last week for this year's Christmas special, and official details could be released as early as this week. [Doctor Who Filming]
As for more out there rumors, a canal boat currently located in the Welsh town of Rhoose will be used for filming, where it will reportedly be set on fire after an appearance from an old Doctor. That comes from a now deleted tweet, so it's impossible to know whether "old Doctor" means a previous incarnation of the Doctor or an older version of the 11th Doctor. Personally, I suspect it's neither, but the latter seems way more likely than the former, if only because one should never, ever assume a previous Doctor is going to show up. [Doctor Who Spoilers]
---
Fringe
Here's a season four promo.

---
The Walking Dead
While the second season will kick off in October like last year, the second half of the split season will premiere in February. Also, new showrunner Glen Mazzara offered this preview for the coming season:
"[I'm] very proud of the season. Whether we have zombie gags, action, emotional payoff where we're pushing characters...we don't have a bad episode in the can...It's not a bleak world, it's an intense world. We want you coming back because of the characters struggling against the odds. If you don't have humor or heart it becomes a big gorefest."
Also, the 90-minute premiere is reportedly one of the goriest episodes in the show's history. And special effects maestro Greg Nicotero will be handling directing duties for the penultimate episode twelve. [E! Online]
---
Person of Interest
Here's a trailer. Also, the second episode is called "Ghosts." [SpoilerTV]
---
Awake
ER's Laura Innes has joined NBC's midseason drama in which grieving cop Jason Isaacs finds himself shuttling between two alternate universe. (For a more thorough overview of the show's awesomely high-concept premise, check out our Comic-Con post.) She will reportedly play Captain Tricia Harper, and here's a character description: