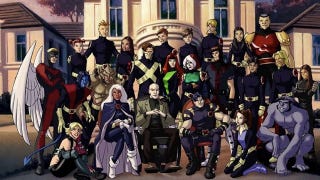 Hey, it's back-to-school time! Boo! I know it's a huge disappointment to learn that Alice Cooper has the capacity to fib, but look on the bright side — you could be earning your diploma at Xavier's School for Gifted Youngsters!
I know it sounds thrilling to sign up for Colossus' "Siberian Landscape Oil Painting 101" and to have Psylocke as a gym teacher, a class I imagine resembles the music video for Eric Prydz's "Call On Me."
But really, Professor's Xavier's prep school is like Dangerous Minds with killer robots, mostly homicidal teachers, and no Coolio songs. Here are 10 reasons why the X-Men have no business being school teachers.
10.) Sometimes it's not even a school!
That's right! Depending on who's writing the X-Men, Xavier's can be anything from an elite Westchester County private school, a paramilitary commune for horny mutants to hang out and go on adventures, or a refugee camp. Hell, nowadays the X-Men have basically abandoned the prep school paradigm as they now live on a meteor in San Francisco Bay à la Sealand.
When the Xavier Institute decides mid-semester that it's no longer conferring degrees, can you transfer those credits to human schools? Honestly, that shouldn't even be your biggest worry because....
9.) The school is frequently a smoldering crater!
Yes, this school blows up. A lot. And if we adjust the X-Men's comic book time to real-world time, the school is entirely destroyed like clockwork every couple years or so. No wonder Wolverine once opined, "Next time guys, we should just rebuild this place outta Lego."