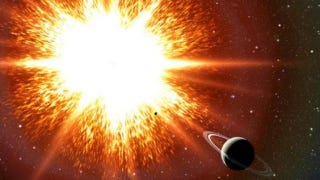 The whole point of white dwarfs is that they're the remains of stars not big enough to go supernova. Or so we thought. Many of these stars are held together by their super-fast spins... and slowing down could mean an explosion.
Yes, it's pretty much the plot of the movie Speed, except with thousands of stars scattered throughout the Milky Way. The idea that white dwarfs can go supernova isn't new - indeed, there's an entire category for this phenomenon, known as Type Ia supernova. It can happen whenever a white dwarf becomes unstable enough to reignite runaway nuclear fusion.
All previous instances of Type Ia supernovae occurred because white dwarfs exceeded their critical mass due to sapping mass from a stellar companion. (The collision of two white dwarfs is also a potential explanation, but the current consensus is leaning against that as a serious possibility.) But there are some issues with this theory, not the least of which is it's hard to find evidence of the donor stars that gave these exploding white dwarfs their extra mass.