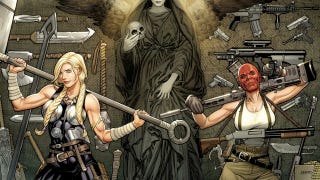 In Marvel Comics' summer miniseries Fear Itself, a dark god known as The Serpent uses magic hammers to transform characters like the Hulk and the Thing into sociopathic Asgardian deities.
But when Fear Itself wraps up, what's going to happen to The Serpent's mystical implements of smashing? Here's the scoop on The Fearless, a new story that sees both Marvel's heroes and villains going on a hammer quest.
We recently caught up with Marvel editorial about Battle Scars — an espionage-tinged miniseries spinning out of Fear Itself —and last Friday, Matt Fraction, Cullen Bunn, and Chris Yost were on hand to discuss The Fearless, a globe-trotting, twelve-issue, twice-a-month miniseries hitting stands this October.