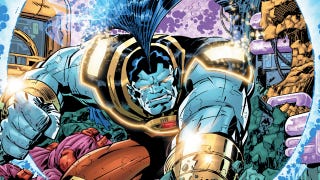 Here's an exclusive sneak peek of DC Comics' new comic book O.M.A.C. In this series, Jack Kirby's One Man Army Corps gets a 21st century cybernetic update, complete with espionage thrills and battles with Frankenstein.
Also, we chatted with O.M.A.C. co-author Dan DiDio about the hero's upcoming trials that can't simply be vanquished with the slice of a mohawk.
The first issue of O.M.A.C. hits stores Wednesday, September 7. Here's the solicitation information:
O.M.A.C. #1
Written by DAN DIDIO and KEITH GIFFEN
Art and cover by KEITH GIFFEN and SCOTT KOBLISH
The all-seeing Brother Eye satellite has unleashed a new beast upon the DC Universe in this smashing new series! Kevin Kho has become an unwilling participant in a war between Checkmate and Brother Eye as he is transformed into the One Machine Army Corp known only as O.M.A.C.!
---
At the DC relaunch party last Tuesday, we asked O.M.A.C. scribe and DC co-publisher Dan DiDio about what's in store for this bemohawked hero. (You can also read our previous interview with Dan about O.M.A.C.'s mohawk and strange rogues gallery here.)