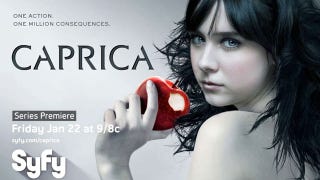 We expect a lot from Syfy, because it's the only cable channel devoted to science fiction. So it's inevitable that the network formerly known as the Sci-Fi Channel will disappoint us occasionally. And sometimes people blame Syfy unfairly — like when Syfy pulls the plug on a low-rated show.
But at the same time, it's fair to say Syfy has made a few actual mistakes over the years. And in our opinion, here are 10 of them.
People sometimes attack Syfy for doing stuff that actually makes sense, at least from a business standpoint. Like showing pro wrestling, which is actually a sort of fantasy in its own right, and which generates crazy ratings for the channel. Also, it's important to stop and realize that Syfy has done some stuff right — the Being Human remake is better than we could have hoped, and has brought in women viewers for the first time in ages. And Warehouse 13 and Alphas are continuing to rule. Plus we pretty much love the Saturday night original movies, zany monsters and all.
At the same time, here are things that we're pretty sure really were mistakes:
1. Canceling Stargate Atlantis.
Stargate Atlantis ran concurrently with Stargate: SG-1 for its first three years. So there was plenty of precedent for running two Stargate shows concurrently. And Stargate Atlantis was still scoring pretty solid ratings when Syfy decided to pull the plug on it and launch Stargate Universe instead. Continuing Stargate Atlantis after the launch of Stargate Universe might have kept fans of a lighter Stargate happy, as well as signaling that the Stargate franchise was merely growing, not changing direction. Thanks for this idea, Tom!
2. Making Flash Gordon non-space-bound.
This one still makes us scratch our heads. You get to do the rights of one of space opera's most recognizable characters, who's famous for flying around on rockets and battling against aliens in space — and you never put him on a spaceship. Syfy's Flash Gordon reboot involved Flash stepping through a portal to another world, Mongo, which managed to be simultaneously ultra-campy and kind of dull. (We nicknamed the show's villain Ming the Middle-Manager, for his aura of seeming fussy and dyspeptic, rather than actually bad-ass.) They ditched the cool part of Flash — the space adventure — in favor of all of the campy, dated stuff.
3. Abandoning Friday nights as an action-adventure bloc.
Would Battlestar Galactica have maintained its rock-solid ratings if Syfy had moved it to Tuesdays or Mondays — or would it have suffered the same fate as Caprica and Stargate Universe? We'll never know. But BSG had been steady on Friday nights since the beginning of its second season. In fact, Friday night had become a reliable home for Syfy's more action-oriented shows, and lately only Haven appears there, alongside wrestling. (Which might do just as well on another night.)
4. Marcel's Quantum Kitchen
When word first leaked that Syfy was doing a cooking show, we mocked. It seemed to be pushing Syfy's identity a little too far away from science fiction — and outside their core competency. And indeed, Marcel's Quantum Kitchen was a pretty dismal failure, winning just 330,000 viewers for its final episode. (Even if it is cheap to make.) Syfy has carved out a niche in spooky reality TV like Ghost Hunters and Destination Truth — shows that I personally will never watch — and Marcel's Quantum Kitchen was just a few steps too far.