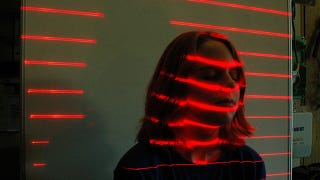 Cyberpunk is no longer the future. We're living in an age in which many of the visions of creators like Bruce Sterling, William Gibson, Pat Cadigan and Ridley Scott are invading our world today.
Our lives (and minds) are more integrated with technology than ever before, and many of our cities are growing closer to becoming media-saturated mega-cities, dominated by large corporations. You can find cyberpunk visions in our midst. Here are some of the most cyberpunk places in the United States today.
Top image via Gnewt, Hackerbot Labs
In the excellent essay "Cyberpunk Cities: Science Fiction Meets Urban Theory," Carl Abbott argues that cyberpunk visions of cities are coming true, as increasing dependence on telecommunications leads to the rise of a few "world cities" which control the global economy. The features of the cyberpunk city include a huge divide between rich and poor, and an underground economy in which hackers and outsiders create their own resources. Corporate culture is writ large, but a gritty subculture resists. And of course, people are living intimately with technology and integrating it with their own minds and bodies. Those are the criteria we looked for here. (See also the alt.cyberpunk FAQ.)
We're hoping this will be the first in a series of articles that will look at cyberpunk places in the U.S.A. Send us your suggestions!
The Storm Drains of Las Vegas
Untold thousands of people live in the approximately 200 miles of storm drain tunnels, directly under the Las Vegas strip — some of them with a clear view of the blinding neon lights, lasers pointing into the sky and weird scheduled theater performances along the street. While Vegas hotel-goers take part in "virtual reality games" and explore shrunken replicas of the world's cities like Venice and Paris, the homeless people create their own massive graffiti art gallery underground.
And as Placehacking writes after a visit to the tunnels, this includes a new underground cyberculture:
And if we are bridging the gap between urban explorers and hobos, tramps and bums, following Anderson, what are we? Does that dreaded monstrosity the prohobo – the hobo that chooses to be homeless yet retains the ability to photograph, blog and scam the internet for money as well as picking pockets and robbing Liddle for fixtures to BBQ vegetables looted from the skip actually exist? Is this Donna Haraway's cyborg, neither nature nor culture, human nor computer, neither employed nor homeless? Are we becoming as liminal as the spaces we increasingly reside in? Are we finally getting close to the meld? I hope so, cause I can't wait to pop.
OmniCorp Detroit
Detroit is a very cyberpunk place to begin with, with its decaying infrastructure and unsustainable sprawl. But OmniCorpDetroit has a laudible dedication to weirdness and subversion — just watch the insane alleycat video at left. According to Art:21,