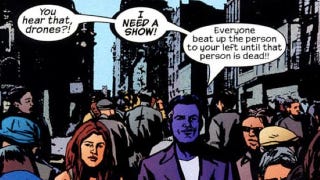 Mind control yarns are a staple of science fiction, but they tend to fall back on the same tropes. Fortunately for you, I've developed a character that blows all those tried-and-true formulas to smithereens. Join us as we reinvent the mind control tale.
1.) Mind controllers compensate for a lack of physical prowess
More often than not, the mind controller is written such that his or her abilities overcome a lack of physical strength — other times they're a placeholder for physicality.
The Non-Stereotypical Way: For the express purpose of showing you all how to write a different kind of mind-controlling hero, I'll be discussing a real cool guy I've invented for this writing exercise. He offers significant emotional depth and nigh unlimited plot possibilities. His name is Dick Apex, Psychic All-American Quarterback.
2.) Fingers on forehead
Whenever psychics attempt to control someone, they tend to place on their forefingers on their skulls. During particularly strenuous tasks, the psychic will grimace as if severely constipated and his or her nose will bleed. It is not flattering in the least.
The Non-Stereotypical Way: Whenever Dick Apex thinks hard, his brain heats up like a furnace. To cool his head down, Dick's salivary glands kick into overdrive and he drools uncontrollably. This is extremely dangerous for Dick, as a professional athlete of his caliber can't win the big game with cottonmouth.
3.) Psychic manipulation, mind-warping drugs, hypnosis, and subliminal nudging
In fiction, these are the most common methods of making another do your bidding. With the exception of mind control helmets, of course (see below). The Puppet Master (a.k.a. one of George R.R. Martin's least favorite Fantastic Four foes) is one such outlier.