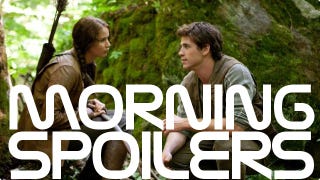 Matt Smith explains why he doesn't want River Song to become the Doctor's full-time companion. Gary Ross explains the new Hunger Games teaser. Anne Hathaway's costume explains why her Batman character really is Catwoman. Plus trailers for Fringe's fourth season!
Spoilers from here on out!
Top image from The Hunger Games.
The Avengers
An extra supposedly on hand for the confrontation between Loki and Captain America offers a ton of juicy tidbits on the big fight between Captain America and Loki. The fight follows a scene in which Loki commands a bunch of ordinary citizens to kneel before him, and one brave old man refuses to do so. This gentleman is, according to the extra, played by awesome character actor Phillip Baker Hall, who is reliably awesome in Paul Thomas Anderson movies, among many other things. Anyway, Captain America shows up to save the people just before Loki "fries" Hall's character, leading to this exchange: