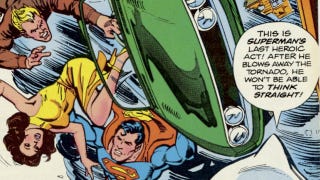 While moseying around the comic shop the other day, I stumbled upon a 31-year-old advertainment comic starring none other than the Man of Steel. It was simultaneously the most and least sensical Superman story I've ever read. Behold Superman: The Computers That Saved Metropolis (compliments of Radio Shack®).
I knew this comic was something special when I first saw its cover, promising a starring role for "The TRS-80 Computer Whiz Kids," two slack-jawed moppets with the most moderately-priced personal computing systems 1980 could buy. And the DC talent behind the comic was not unimpressive. Cary Bates penned it, and Jim Starlin and Dick Giordano shared illustration chores. Finally, the comic focuses on a singularly singular premise: Superman is teaching a sixth-grade computer science class.
It's never explained why Superman is spending his time teaching schoolchildren, other than the fact he knows their teacher Ms. Wilson. Why an alien demigod would owe a random middle school teacher 45 minutes of anything is anybody's guess, but the usage of euphemistic quotes suggests that their acquaintanceship is of a carnal nature.
Anyway, Superman begins his lesson by secretly learning all of the children's names using his X-ray vision. This may seem like a friendly parlor trick, but it reads like an implicit threat that he is watching them always.
See? He means you, tow-headed turd. After this panel, Superman begins prattling about vacuum tubes and John Bardeen and other revolutionary advances in personal computing circa the Carter administration.
After offering them free history, Superman begins talking up the merits of the $499 TRS-80 personal computer. It is probably the most enthusiastic I've ever seen Superman be about anything. I have no idea what Clark Kent's favorite book is, but I know he'll literally create art in the name of the TRS-80.
But during the middle of his lesson, Superman flies away to stop a runaway tornado with his O-face.
When Superman returns, Bowlcut shames the Last Son of Krypton by beating him in a multiplication race. The shit-talking starts immediately, a stupid move given that Superman regularly goes nuts on Red Kryptonite.