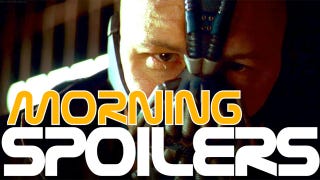 Don't expect every beloved character to survive True Blood's season finale! And don't hold your breath for the Ouija and Fantastic Voyage movies. Check out some photos of Brad Pitt shooting World War Z! Plus, what makes Loki tick in The Avengers, and a possible new Star Trek TV show.
Spoilers from here on out.
World War Z
More set pics — this time, with stars! These shots captured Brad Pitt, who is apparently rocking kind of a "hot hippie dad" look for the movie. From these photos, it looks like he and his family are trying (with mixed success) to evacuate Philly. [Shock Till You Drop]
---
The Avengers
Tom Hiddleston talks a bit about Loki's motivations: He's no longer worried about what his family thinks, he's planning to make Earth his personal fiefdom, and he's having a grand time.
Robert Downey Jr. and Chris Hemsworth talk The Avengers, and explain the nice thing about an ensemble cast: You don't have to do all the work yourself. The clip is an interesting glimpse at the kind of camaraderie we'll (hopefully) be seeing on screen.
And in this clip, they give the elevator pitch for the movie.
A very, very brief interview with Scarlett Johansson and Jeremy Renner.
Marvel chief Kevin Feige talks a bit about how The Avengers came together.

---
Frankenstein
The Fantastic Voyage remake is said to be in trouble, with director Shawn Levy ready to walk if they can't cast an A-lister. Well, this may clinch matters: He's reportedly signed onto a fast-tracked Frankenstein project, written by Max Landis. [First Showing]
---
The Woman In Black
The UK Quad is revealed! It wants to know whether you believe in ghosts. [Coming Soon]
---
Ouija
Universal has pulled the plug on the project, and now owes Hasbro a cool $5 million. [Coming Soon]
---
Man of Steel
New pictures offer a glimpse at Antje Traue as Faora. As we pointed out yesterday, it looks like Superman will be sans red underpants. [Coming Soon]
---
John Carter
MTV News asked Taylor Kisch and Andrew Stanton about sequels. Stanton's reply: "We'll just hope there is one right now." We'll take that to mean "Depending on box-office returns." [MTV News]
---
Snow White and the Huntsman
The Snow White adaptation that stars Kristin Stewart (not to be confused with the one starring Phil Collins' daughter) has started production at Pinewood Studios. [Coming Soon]