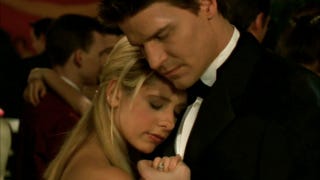 Teenage life is filled with unspoken inevitabilities: unplaceable angst, unfortunate haircuts, sitting next to that dream boat Dirk Perkins in trigonometry class. But what nobody ever tells you is that, at some point, you will go to prom with a vampire.
Of course, I'm twisting the truth a smidge. Maybe you won't go to prom with a vamp, but you're destined to accompany Nosferatu to a homecoming dance, cotillion, debutante's ball, quinceañera, Amish Rumspringa festival, or just your run-of-the-mill hootenanny.
And in all of these instances, the proper soundtrack is the difference between a coming-of-age moment with plenty of meaningful eye contact and ending up exsanginuated in an Arby's parking lot and having your desiccated corpse tossed in the nearest quarry. Here are 10 songs that will guarantee a magical night.
10.) "Hands Off" by Maria Vidal from Once Bitten
In Jim Carrey's first starring film role, he played a teenage virgin who's seduced by a much older woman. In this sequence, the centuries-old Countess and his high-school sweetheart compete for his affections using the power of Reagan-era interpretative dance.
9.) "Come To Me" by Deborah Holland and Brad Fiedel from Fright Night, Part 2
Honestly, I prefer Brad Fiedel's instrumental porno jam from the first Fright Night, but the second iteration of "Come To Me" kills it with the female vocals and the severe fiddle breakdown.
8.) "Dracula's Pajama Party" by "Jerking" James Whitcroft
It's almost impossible to track down a copy of this (non-fiction) song, but you'll be glad you did. My advice? Hit eBay. An acceptable substitute is "Halloween Shindig" by Ed Twilley and The Creepers.
7.) "After Dark" by Tito and Tarantula from From Dusk Till Dawn
This sultry song goes out to commenter Dresan, who has requested more Salma Hayek-related content on io9. Sadly, I won't post the scene, because if you dance like Salma Hayek at the prom, your chaperoning gym teacher will tie a makeshift sarong of flag football pinnies around your torso. This is also a good song to play if you ever go to the prom with Quentin Tarantino.