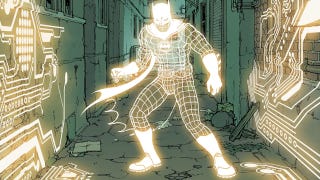 A big heaping dollop of high concept crazy is waiting for you at your neighborhood comic emporium. There are supernatural martial arts masters, a new issue of Kick-Ass 2, and a certifiable deluge of four-color crazy. Let's examine the goods.
First Issues
For superheroic fare, there's the first issue of (the somewhat redundantly titled) Jonathan Hickman book Ultimate Comics Ultimates, which promises to hearken back to that big-screen Mark-Millaresque action of the early Aughts. Tom DeFalco pens the Superman Beyond one-shot, which features the Batman Beyond universe's version of the Last Son of Krypton.
IDW's also premiering several titles — they're publishing Anne Rice's new horror comic Servant Of The Bones (you can check out a preview here), R.A. Salvatore's Dungeons & Dragons: Legend Of Drizzt Neverwinter Tales, and Kevin Eastman's new Teenage Mutant Ninja Turtles series. Finally, Dynamite is kicking off series based on the Bionic Man (co-penned by that Kevin Smith) and Warehouse 13.