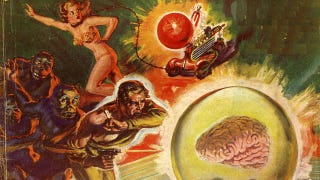 You always hear writers and other creative people talking about "selling" something to the reader, or the audience. And it sounds terribly crass. What if you're a great artist, and you don't want to try and sell anything? This all sounds like... commerce. Or something equally distasteful.
But in fact, when people talk about "selling" something, they're talking about a key part of storytelling — maybe the most important part. Whether it's your premise, or your main character's motivation, or a key plot device, there's always at least one thing that you have to sell to people, or they won't buy your story as a whole.
So how can you become a great salesperson?
So let's say you've written a book, and someone's already paid actual cash money for it. Why do you have to worry about selling anything else after that? Partly, it's because you want that first reader to like the book enough to recommend it to all his or her friends, so you can move more dead trees or e-ink. But also, the reader signs a sort of contract with you when they plunk down their cash for your book, and making your reader believe in the story is part of fulfilling that contract.
Everybody has to worry about this stuff — literary writers as well as genre writers. Genre writers may have a slightly higher barrier to making the sale, because we ask people to believe in strange worlds and weird creatures, in addition to all the crazy decisions that characters have to make, in order for there to be a story. But no matter what, there's going to be stuff in your story that you have to get people to buy into, or they won't care about your characters or their world.
Look at it this way, continuing the commercial metaphor: You start every story with a certain amount of capital, and that capital is your readers' attention span. You need to spend that capital wisely. If you spend it well, on getting your readers to buy into what you need them to buy into, then you'll get an almost unlimited supply in return. But you have to spend your initial capital to get more — if you hoard it, you lose it — and if you waste it on the wrong stuff, people will give up on you.
What we're talking about is sort of similar to suspension of disbelief. But it also involves just getting people to care about whatever your story needs them to care about. And besides just believing in the plausibility of some plot twist, this kind of "selling" also means getting us to fixate on a detail or an idea enough that we'll remember it later. You need to get the audience to hold onto stuff that you're going to be coming back to later in the story. Anything that you're planning on putting some weight on, you need to reinforce. And so on. It sounds basic, but it's actually really hard.