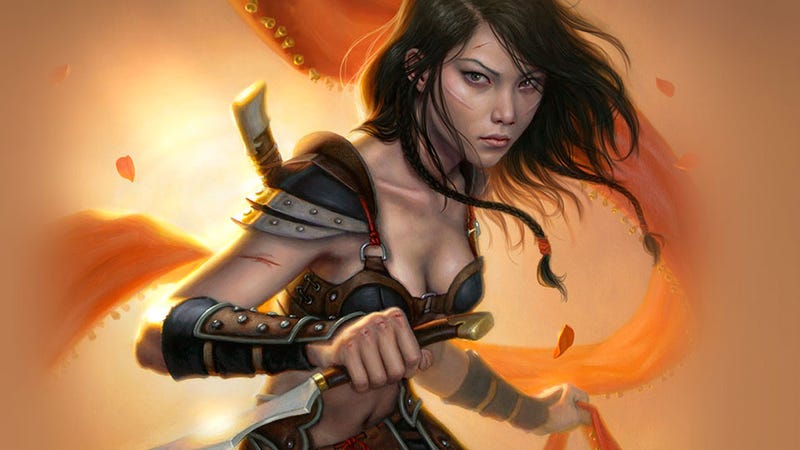 The next few months are positively packed with literary science fiction and fantasy goodness. Neal Stephenson returns to virtual reality! Vernor Vinge finally delivers the sequel to A Fire Upon the Deep. Plus dueling magicians and digital revolutionaries.
Here are all the books we're looking forward to this fall...
Top image: Endurance cover art by Daniel Dos Santos, via Tor.com
---
August
The Magician King, Lev Grossman (Viking)
The Magician King follows right on the heels of Grossman's debut, The Magicians. Quentin rules Narnia-like Fillory with his co-royals Eliot, Janet and Julia. So, it's happily-ever-after, right? Well, turns out happily ever after is rather boring. Quentin and Julia go looking for adventure, but they're just dumped out in Chesterton, Massachusetts, at his parents' house. They'll have to cross some dark territory (real and mental) to get back home.
Ready Player One, Ernest Cline (Crown)
It's 2044 and the world is a giant crap sandwich. Wade Watts — like much of humanity — spend a whole lot of time in OASIS, a virtual reality playground, escaping his rather miserable existence. Luckily, the game's founder has embedded three keys somewhere in the world, and the player who can unlock them owns everything lock stock and cyberbarrel. Oh, but finding them requires intimate knowledge of 1980s pop-culture trivia.
---
September
Ganymede, Cherie Priest (Tor)
Andan Cly returns! The giant, strapping pilot aims to clean up his act a bit (or at least quit the sap-running). He heads for New Orleans to procure some supplies for Seattle, where he runs into former lady-love Josephine Early. Now a madam and a Union spy, she's got an offer for Cly. There's a prototype sub, the Ganymede, parked at the bottom of Lake Pontchartrain. She wants it snuck out of Southern territory and delivered into Yankee hands. Oh, and no one knows how to work it, and most people die trying.
It's a particularly exciting fall for Priest fans: We're also getting Hellbent, the second installment of her series featuring Raylene Pendle, vampire badass.
The Restoration Game, Ken MacLeod (Pyr)
Ken MacLeod is an io9 favorite, hence our excitement that Pyr is bringing his latest to America. There's trouble stirring in the formerly Soviet region of Krassnia, and a gang of revolutionaries needs a virtual safe space. Enter Lucy Stone, who's designing an online game based on the Krassniad (a folklore-based epic poem written by her own mother in her days of regime-undermining activity as a CIA agent) that they can use as a hide-out. Intrigue ensues.
Reamde, Neal Stephenson (William Morrow)
Richard Forthrast has parlayed a small fortune (built on pot smuggling) into a massive one, using a wildly popular MMORGP called T'Rain. Of course, any wildly popular online platform immediately attracts criminal attention, and so a group of Chinese hackers builds a devastating virus called Reamde, which locks every file on a user's computer, and they demand a ransom. This creates all kinds of problems — especially for one T'Rain programmer named Zula, who's kidnapped and thrown in the back of a jet, and finds herself bouncing from questionable bunch to questionable bunch. The official HarperCollins announcement calls Reamde Stephensen's "most accessible novel to date," but mostly it just sounds like a crackerjack-but-brilliant thriller.
Goliath, Scott Westerfeld (Simon Pulse)