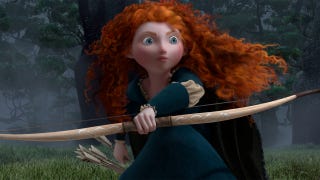 Pixar celebrated its 25th anniversary at D23 yesterday by previewing its next four movies. There's Brave, which takes place in ancient Scotland and features Pixar's first female hero, followed by Monsters, Inc. prequel Monsters University, plus two newly announced projects!
Disney animation chief and longtime Pixar head John Lasseter took the stage yesterday to the upcoming slate of Pixar movies. Perhaps implicitly responding to the heavy criticism of Cars 2 - generally considered the studio's first outright flop - Lasseter and the various creative teams were quick to stress that Brave and the two previously unannounced projects are all "entirely original" films, and that Monsters University is being made because they found a story worth telling that was as good or better than that of Monsters, Inc. And, to be fair, there's some precedent for this - whatever cynical, commercial calculation might underpin the existence of the two Toy Story sequels, they both stand up as superlative films in their own right.
Still, for the first time in its 15 years of making movies, Pixar is arguably not playing from a position of strength. The question then is whether all the new footage could show Cars 2 was the unfortunate aberration, rather than the new rule. And, generally speaking, what I saw looked like the Pixar of Wall-E and Toy Story 3 rather than that of Cars 2.
Let's start with Brave. Lasseter reeled off all the firsts that Brave represents for them - it's their first period film, the first with a a female main character, and it's the first to venture into mystical, fairy tale territory. Set in the highlands of ancient Scotland, the movie follows Merida (Boardwalk Empire's Kelly MacDonald), a skilled archer and daughter of King Fergus (Billy Connolly) and Queen Elinor (Emma Thompson).
Fergus is maybe a bit past his prime these days, but he still commands respect as the most fearsome warrior in Scottish history, and he has the missing leg - which he lost in a legendary battle with a demon bear - to prove it. For all his apparent toughness, he's a complete sweetheart when it comes to his daughter. Not so for Queen Elinor, who has no patience for Merida's headstrong ways and demands she prepare for a marriage with one of the sons of the three most powerful nobles: Lords Macintosh (Craig Ferguson), Dingwall (Robbie Coltrane), and MacGuffin (Rome's Kevin McKidd).
Both the previously released trailer and the footage shown at D23 offers some pretty strong hint that there are mythological beasts lurking on the edge of the movie - Fergus's demon bear seems like a safe enough bet for an appearance in the movie - but we still don't quite know what we're in store for.