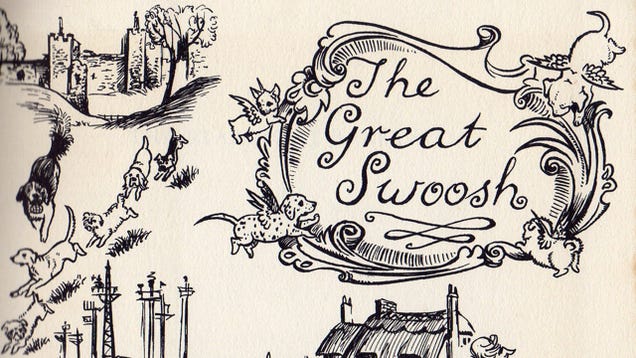 Eleven years after she published The Hundred and One Dalmatians (and six years after the Disney adaptation hit the scene), author Dodie Smith followed up her children's classic with The Starlight Barking, an obscure science fiction tale about extraterrestrial canines and nuclear war and spontaneous levitation.
Sure, you could actually track down a copy of this kids' book, but why do that when you can read a contextless, condensed synopsis that reads like stoner fan fiction? Take it away, Wikipedia:
A day of enchantments for the Dalmatians of the first book begins when the Dalmatians wake up and find all the humans and other animals in an unnaturally deep sleep. They hear the barking of Cadpig, carrying all the way from London, where she has become the Prime Minister's pet. She informs them reports from all over the country reveal the same phenomenon, and summons delegate dogs to London. They travel to London by "swooshing", described as gliding just off the ground.

Pongo joins in a conference with Cadpig and her "cabinet" discussing whether to go with Sirius or not. Then three skinny, mixed-breed strays arrive and ask to be heard. Pongo is sure that they will want to go with Sirius, but they want to stay on earth and someday have owners of their own. Pongo tells Sirius the dogs cannot abandon their humans and the Dog Star sadly accepts the decision. Before he leaves, he grants every dog the power to reach his home before the humans wake up. All the stray dogs take the opportunity to go to the Battersea Dogs and Cats Home.
I'm secretly wishing that Harlan Ellison used Smith's book as an unacknowledged prequel to A Boy and His Dog, just to show how damn wrong Pongo was.