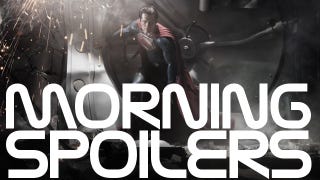 Tons of Avengers set photos show Captain America defending New York. Bradley Cooper drops out of The Crow, and two even more hilariously inappropriate actors take his place. Plus Emma Stone promises a new crazy kiss in The Amazing Spider-Man.
Spoilers from here on out!
Top image from Man of Steel.
Man of Steel
We received this tip from someone claiming to have been around for the August 15 filming at Valley West Community Hospital in Sandwich, Illinois. Here's a description of what was filmed:
They were filming a scene in the hospital where the Kents were taking a young Clark in for a checkup. Kevin Costner was on set, as well as two boys who were playing young Superman. The scene included breaking of windows on the front of the building, a fish tank, a gumball machine, a mug as well as windows on the Green 1970 Nova and the station wagon all as a result of young Superman letting out a Super Cry.
The tipster also revealed this:
I learned that there will be HUGE battle in Plano which will include blowing up the gas station and running a train through the Sears Store during the scene. Also they will be smashing a pickup truck into the Kent House in Yorkville as a result of a tornado.
[gallery 5831643] Obviously, we can't confirm this one way or the other, but it sounds plausible enough. Here are some set photos that were included with the tip. You can make out the sign saying "Smallville Pediatrics."
Here's a set video of Amy Adams as Lois Lane, as she apparently asks a small-town gas station attendant for directions. [Comic Book Resources]
And here are a bunch more set photos of Adams from the Plano set, indicating Lois Lane is headed to Smallville in the movie. [Comic Book Movie and The Huffington Post]
---
The Avengers
Here are a bunch of set photos, including lots of shots of Chris Evans in his full Captain America uniform. Tons more photos at the links. [SpoilerTV, ComingSoon.net, and Comic Book Movie]
Here's a set video:

---
The Amazing Spider-Man
Emma Stone promises this new movie will feature a kiss to rival the iconic kiss from the original Spider-Man (insofar as anything from the Raimi movies can really be considered be "iconic", I suppose):
"Why would we do an upside-down kiss? I'm not Mary Jane. I'm Gwen Stacy in the Spider-Man film. New girl. New kiss. I wanted to do different kisses to make our mark.

"Of course, it was amazing to do the big action superhero movie. But to me, this 'Spider-Man' actually feels very down to earth. It's a love story for my character, a simple love story told in the midst of this big, big world...It wasn't too high-flying for me, so you could say I'm the grounding influence."
The official site has confirmed the release date of July 3, 2012. [The Amazing Spider-Man]
---
Wonder Woman
Drive director Nicolas Winding Refn says that, if his Logan's Run reboot with Ryan Gosling is a success, he fully intends to make Wonder Woman his next project:
"I would love to make 'Wonder Woman.' And I also think that Christina Hendricks would be the perfect Wonder Woman, but Warner Bros haven't called yet. But I'm getting closer with 'Logan's Run.' I think someone said to me in a meeting that if I get 'Logan's Run' right, then I'll get 'Wonder Woman.'"
Yes, but how will this co-exist with David E. Kelley's Emmy-winning, smash-hit TV adaptation of Wonder Wo...oh, yeah, right. Moving on. [/Film]
---
Rise of the Planet of the Apes Sequel
Rise co-writers Amanda Silver and Rick Jaffa discuss possible sequels, including a possible appearance by Charlton Heston's iconic astronaut George Taylor:
Silver: I'm touching wood, because I'm superstitious! We definitely have ideas for where the sequel - plural, where the sequels - would take us. And those were kind of built into –
Jaffa: - the construction of the narrative already. There hasn't been an official discussion yet about a sequel, because I think everyone still doesn't want to jinx where we are. But we definitely have ideas.
Silver: When we started this, we knew that this movie would stand on its own, and we designed it that way. But if it didn't stand on its own, we pictured a trilogy that would start with this movie.

I'm definitely intrigued to see what happens to the Icarus mission, the spaceship that hovers around the background of the plot of Rise.
RJ: We definitely have ideas about that! What better plant can you put in a script then, "Oh my god, Taylor's going up again!"
They also said they're trying to think of appropriately "cheesy-but-fun noun" to put in front of the "of the Planet of the Apes" part of the title. They suggested Revenge of the Planet of the Apes is one possibility, and joked Success of the Planet of the Apes will be the title if they're still making these things 20 years from now. [EW]
---
World War Z
Here are some set photos from Glasgow - which is doubling for Philadelphia in the movie - sent to us by tipsters Ross and Holl.
---
In Time
Justin Timberlake explains how he and Olivia Wilde figured out how she would play his 50-year-old, eternally young mother Rachel:
"We laughed about it when we first saw each other. First of all, Olivia is three years younger than me! We'd read the script and I would say, 'Here's something my mom might do,' or 'Here's the way my mom might say it.' I think she really looked to me to give her those little things because she had the trickier job in our scenes. But she's obviously a great actor. When you meet both of [our characters], it's visually jolting, but within seconds you're like, 'Oh, wow, that is his mother.'"
[EW]
---
The Crow Reboot
Perhaps realizing that his frat boy good looks were just too ridiculous a mismatch for a Goth icon like The Crow, Bradley Cooper has dropped out of the project - the official reason being "scheduling conflicts" - so that he can focus on more natural roles for him, such as Satan. Anyway, Channing Tatum and Mark Wahlberg are reportedly the new top contenders, because apparently everyone involved has just decided to double down on the ridiculousness. [Heat Vision]