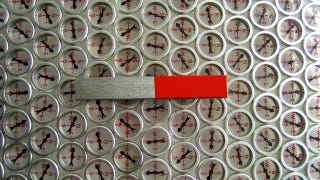 Spin liquids are an exotic state of matter that can only exist in the world of quantum mechanics. They're a strange mess of spin states and superpositions that forces magnetism and anti-magnetism to simultaneously exist in millions of different configurations.
But just what on earth is a spin liquid? Well, the term "liquid" is a bit of a misnomer - the main point of similarity between liquids and spin liquids is that they're both a form of disorder. The atoms in liquids are disordered compared to the neat arrays of atoms that make up solids, and spin liquids are basically a form of magnetic disorder on the quantum level. I suspect that doesn't make things all that much clearer, somehow.
Let's look at the "spin" part of spin liquids. We've gone into some detail on the notion of spin before (go here and here for a crash course), and for our purposes we can greatly simplify things by saying that the spin of atoms is what creates their magnetic fields. It's possible to create magnets on the macroscopic scale - say, like the ones on refrigerators around the world - if all the constituent atoms of the magnet have their spin pointing in the same direction.