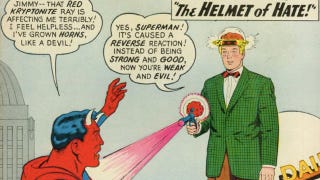 During the Silver Age of Comics, Kryptonite had many bizarre mutational properties. In 1963's Superman's Pal, Jimmy Olsen #68, Jimmy — driven insane with rage by The Hate Helmet — exposes Superman to Red Kryptonite, morphing the hero into Old Scratch.
This is but one twist in a fine comic with the narrative grace of a monster truck crash.
The comic begins with Superman organizing his collection of Jimmy's bizarre transformations. As we've noted before, Superman's HQ lacks toilets but contains many disturbingly real facsimiles of his loved ones. This is where Superman pretends to be human, collecting experiences and relationships like so many POGs.