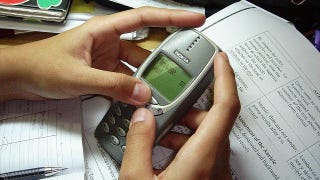 It's not always easy to distinguish between human social interactions and the complex chemical interactions that underpin them. Just hearing a calming, familiar voice can alter a person's hormones in a beneficial way...and technology just gets in the way.
That's the finding of biological anthropologist Leslie Seltzer of the University of Wisconsin. She designed an experiment in which young girls aged 7 to 12 were first faced wit a stressful laboratory task, and then were allowed to receive reassurances from their mothers. Precisely how the mothers communicated varied - some were able to speak face-to-face, others talked on the phone, and still others could only send a text. Some of the girls had no contact with their mothers at all.
Seltzer and her team found that daughters who could hear their mothers - whether it was in person or over the phone - showed clear drops in their cortisol levels and a release of oxytocin. Cortisol is a hormone commonly linked with stress, while oxytocin is the so-called "love hormone" (a term not without its controversies). Basically, on a hormonal level, the presence of a mother's voice allowed the girls to instantly feel better.