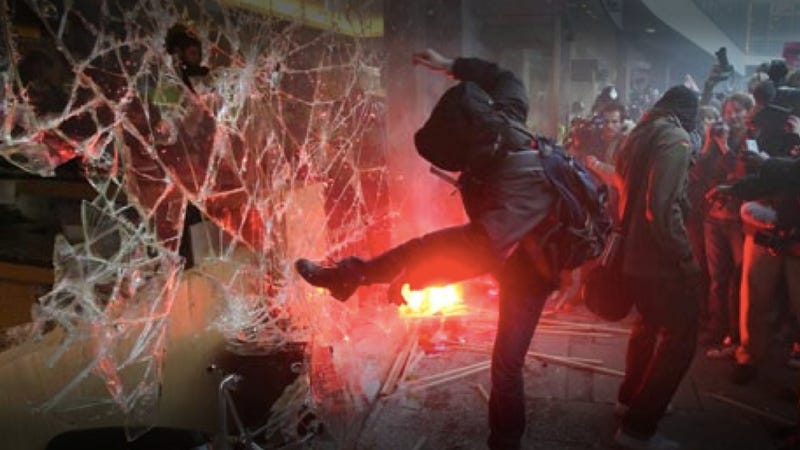 For the past three years we've been watching great economic institutions, from banks to nations, collapsing into chaotic uncertainty. The economic future looks murky at best, and apocalyptic at worst. You can prepare for the coming upheavals by reading nonfiction by economists, political scientists, and pundits. But sometimes it's hard to imagine what's coming next without a good story to illustrate different possibilities.
That's why we've put together this book list for you, packed with novels about what happens to the world after total or partial economic collapse.
Special note to people who are going to ask about the Foundation series: Those novels may be about economics and social collapse, but not economic collapse per se.
Parable of the Sower and Parable of the Talents, by Octavia Butler
In this two-part story of America's fall from economic superpower to oil-starved chaos ruled by roving gangs of Christian fundamentalists, Butler tells a chilling story of the end of civilization and the rise of hope in the form of a new religion. She charts the life story of a young woman, Lauren Olamina, raised in the near future in a walled suburb outside the poverty-stricken horror of what was once Los Angeles. When gangs finally burn her suburb down, she escapes with just a backpack, a gun, a bit of food, and enough seeds to start a farm in a remote part of Northern California. Kidnapped and tortured by fundamentalists, she later creates a religion whose chief tenant is that "God is change." As the country slowly drags itself back from the brink, Lauren devotes herself entirely to raising money for a generation ship so that humans can continue to evolve elsewhere in the galaxy. Realistically disturbing and hopeful by turns, these novels explore economic collapse as well as what small communities do to rebuilt the economy bit by bit.
Virtual Light, by William Gibson
The first novel in Gibson's Bridge Trilogy, Virtual Light focuses on an America whose middle class has disappeared - leaving only the super-rich and masses of poverty-stricken people who live in squats at the edges of cities. The novel is set in one such squat, crusted on the outside of the San Francisco Bay Bridge, damaged in an earthquake and left to turn into a shantytown. When a Bridge-dweller discovers secret plans to redevelop San Francisco, the story turns into a cat-and-mouse game that takes us through a world so divided between rich and poor that the gulf between them has become a wound.
Diamond Age, by Neal Stephenson
Like Virtual Light, Diamond Age is set in a future where rich and poor are divided by rigid class divisions. Many people live in enclaves defined by wealth - and some, like our protagonists, live in a neo-Victorian world where social norms of the 19th century are lovingly embraced. But things are about to change, because an educational primer written for a little rich girl falls into the hands of a poor street kid. Educated by the digital book, she becomes a keen strategist and sets about to change the world by educating other abandoned children like herself. This novel explores a number of fascinating themes, not the least of which is how culture and education are shaped by economics. The one resource that could change the balance of power between rich and poor, Stephenson seems to suggest, is education.
He, She, and It, by Marge Piercy
Another cyberpunk future of corporate enclaves and fallen goverments is Piercy's He, She, and It. In it, one of the world's last remaining "free towns" (i.e., not corporate-owned) fights to retain its autonomy by fostering a lucrative cottage industry of cyborg soldiers. But one cyborg turns out to be more than just a commodity, and he develops his own opinions about the ethics of killing for the highest bidder.
Rule 34, by Charles Stross
Just published last month, Rule 34 deals with the aftermath of the present banking crisis, exploring what happens to Europe and America in the wake of one of the most devastating financial bloodbaths in recent memory. Analysts develop automated tools that sort through corporate records to look for signals of people engaging in moral gray-area behavior that could lead to another crisis. But, like the cyborg in He, She, and It, these automated tools wind up doing more than just keeping the economy running. (You can see our full review of this book here.) Stross has been praised by Paul Krugman as a particularly economic-savvy science fiction writer, and this novel about bank regulations and shell nations is Stross at the height of his econ geek powers.