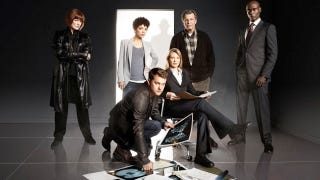 Fringe returns for a miraculous fourth season next month, and we'll finally get to discover just what kind of world(s) our characters are living in now.
When we got a chance to talk to the producers and stars, they promised huge surprises and twists. But the producers also promised that we'll start to discover just what Fringe really means, something that we haven't gotten to see yet.
Spoilers, including some pretty big hints for season four, ahead.
We were lucky enough to sit down with all of the Fringe stars, plus producers J.H. Wyman and Jeff Pinkner, for roundtable interviews at San Diego Comic-Con. And what they told us renewed our excitement and curiosity for the show's upcoming fourth season.
The big question hanging over Fringe, of course, is what happens if season four is the final season? The show already has a full-year commitment, and Fox has made it clear the show just has to hold its audience steady to be considered a success. But there's always the possibility that the producers won't get another few years to finish telling their story. Are we going to get the ending to Fringe that they've always said they had in mind?
Wyman says the studio and the network have been totally transparent with him and Pinkner. When the show moved from Tuesdays to Thursdays, and then from Thursdays to Fridays, the network always shared its goals with the producers. At the same time, "it's an expensive canvas," and if they don't get enough viewers, the network won't let them keep painting on it.
Adds Wyman:
The show itself has a meaning to us that we haven't shared yet. We feel confident that that meaning is going to get across. And that really is all we want, as success. To be able to ask questions but give answers, and have people feel satisfied. Because I would want that... If worst comes to worst, and we couldn't do anything, we always joked that we would do comic books, so people could do the story. We'll come up with something. Or a little hand-puppet show. [Laughs] But we feel confident that we're going to be able to tell enough story to make people satisfied.
Says Pinkner, "We know where the show ends. We're fans and we know what it's like to invest time in something and, all of a sudden it's like, 'Wait, that's it?' And that wasn't the creator's intention." And he stresses that they're telling a story about characters, rather than plot mechanics, and they've always known where they want the characters to end up.
"Science fiction is a really neat way to talk about the human condition," says Wyman. "We're always trying to investigate what it's like to be a human right now, in 2011." These questions are not really the same as, "What's going to happen to the Island" on Lost. It's more like, 'I care about these people. What does this show mean? How is it going to end?' It's scary because we do have a lot of seasons in us, you know. But it's okay. If it doesn't happen, then we'll try and finish, and make people satisfied."
And meanwhile, the producers promised huge reveals and twists this season. "We enjoy consequences, so we'll have many surprises along the way," says Pinkner.
I asked the producers whether the revelation in the season finale about the nature of the First People was going to stick. And they said, basically, yes. Pinkner explained:
We know that the First People were Walter. But we have a rule in that we never say we're done with anything. At one people thought we were "done" with Charlie, and we kept saying, 'No, no, no,' and nobody trusted us. And then Leonard retired, and then here he is back again. And we were getting cancelled — we're not done there either. But as far as the First People being a mystery? Yes. Mystery solved.
And when the show comes back, we'll see a new element introduced — one which will "dimensionalize the show," says Wyman. This new element, which they wouldn't reveal, will make the new status quo clear to the audience, and "You'll go, 'Oh.'" The producers are "always trying to recontextualize" with each new season, so that you're not viewing it the same way as you did before. And they hinted that relations between the two universes will not be without tension, now that they're linked together.
So what's the deal with Peter?
What on Earths is up with Peter Bishop? "We ended the season saying he doesn't exist and the characters don't remember him," says Pinkner. Obviously, Joshua Jackson is still on the show, say the producers. And the questions of what's happened to Peter, "will Peter return and how, and what will be the consequences of that," will dominate. "We like to set mysteries but then answer them quickly, and then play the 'And then what?', as opposed to hinging everything on an answer that we're then pushing down the line."
And when Pinkner was listing the mysteries about Peter, he seemed to be on the verge of including "Who Joshua Jackson is playing," but then he stopped himself.
We asked Jackson himself about this, and he said he wished Pinkner had finished that sentence — because Jackson himself doesn't know what's going on, even though they'd already filmed one episode at that point. "I wish they would have finished that sentence. I wish they would have told you, and then you could have let me in." (Watch the video at left, which was shot at another roundtable in the same room, to see Jackson discussing the possibility that Peter might be an Observer, as was hinted by the video at the show's panel.)