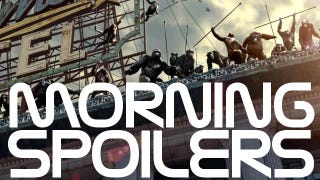 J.J. Abrams gives an eminently reasonable explanation for all the Star Trek 2 delays. History's greatest B-movie thespian joins Oz, the Great and Powerful. Reports of Green Lantern 2 may have been exaggerated. And what's going on with Eureka's future?
It's spoilers all the way down!
Top image from Rise of the Planet of the Apes.
The Dark Knight Rises
A lot of the set photos and reports seem to be fueling the longstanding rumors that Marion Cotillard is playing Talia al Ghul, and not her officially announced role of Wayne Enterprises executive Miranda Tate. She's been seen on set apparently leading a bunch of armed figures who many are speculating are the League of Shadows, and she's also been seen emerging from one of the Tumblers spotted on set. Of course, it's worth pointing out that all of this is very speculative and far from conclusive, and without any real context it's hard to know whether the armed men are League assassins or, say, Wayne Enterprises security or something like that. And, it's worth remembering that the Tumbler is originally Wayne technology. Anyway, expect the constant speculation to continue up until the day the film is released...and in this case, we wouldn't have it any other way. [Gather]
Here are some set photos, courtesy of Wenn.com. They seem to show Christian Bale and Anne Hathaway on set together, though I'm not sure Hathaway is actually there filming - she looks like she's just in her street clothes. [WENN.com]
We might be seeing an en masse return of the Batman imitators seen at the beginning of The Dark Knight, at least according to this random email sent to Comic Book Movie:
We create and provide bulk sales for movie projects ranging from lighting props to police badges. Today at work we had a meeting that all projects where to be put on hold for the remainder of the work week. Some dummy movie company name ordered nearly 200 Batman suits all requested to look *homemade* and to fit a wide range of sizes. The job is dead lined August 10th and must be shipped August 11th...
Massive grains of salt for this one, obviously, but it's an intriguing rumor nonetheless. [Comic Book Movie]
Finally, there's a great roundup of various minor spoilers at the link, including this tidbit about the football game that will be staged at Pittsburgh's Heinz Field:
"[at] opening kickoff the field will start to blow up behind the returner and the field will cave in w/ players falling over the edge."
Well, that would pretty much explain why they're sticking a football game into Christopher Nolan's last Batman movie. Anyway, check out the link for more tidbits. [Comic Book Movie]
---
Thor 2
Marvel Studios may have found the natural successor for Kenneth Branagh as director, and it's reportedly the reanimated corpse of Orson Welles Brian Kirk, who directed three episodes of Game of Thrones as well a bunch of other TV stuff. He's reportedly in early negotiations for the gig. [Variety]
---
The Amazing Spider-Man
Here's a promo image. [IGN]
---
Green Lantern 2
Looks like that sequel is very far from a certainty. Time Warner chairman and CEO Jeff Bewkes gave a fairly blunt statement that the first film did not live up to expectations, and they are still deciding whether to make another. [Hollywood Reporter]
---
Star Trek 2
J.J. Abrams says that he's still not officially the director, but this project is now his number one priority. He also explains that the delays are simply them taking the time to get this thing right:
There have been a lot of things that we've been working on, a lot of important elements that we just know we need to really nail down and solve. Once you say, "We're ready to go, but we don't have a finished script yet," or "I'm directing the thing and here's the release date, but we don't have a finished script," what starts to happen – and I've seen this happen with a lot of friends of mine – is that you're suddenly in production on a movie that they're thinking, "Oh my god, we weren't really ready. We thought we'd get it done in time, but we didn't." So, while we have a moment to say, "Let's get the important things figured out," then all the pre-production stuff will come. But, I just want to make sure that we're putting the story and the characters, the cast and the crew, and most importantly the audience, first before we start talking about exactly which locations we're going to be shooting at and what the wardrobe and visual effects budgets are. It just seems important that we get the important stuff right first.
Well, that all seems perfectly fair. But I want it now!! [Collider]
---
Rise of the Planet of the Apes
John Lithgow describes a scene where the super-intelligent Caesar helps his Alzheimer's-afflicted character handle a fork, as well as why he decided to do the film in the first place:
"It's an extraordinary moment when a chimp is teaching a human being how to do something basic. There is this tenderness where Caesar is more capable than the old man. And there is a grain of plausibility there...

"I've never watched a 'Planet of the Apes' film start to finish. But this script genuinely moved me, it really surprised me. Science fiction works best when it's fact-based, when it's got some sort of emotional authenticity. What happens if a drug is created that can jump start a primate brain? It's a fascinating premise, and it sets in motion this emotional story of our mutual relationship with this ape. You just don't expect to be touched like this by an 'Apes' movie."
Here's one last poster. [/Film]
---
The Hunger Games
Acclaimed director Steven Soderbergh is reportedly serving as Gary Ross's second unit director for the production, because that's just the sort of random thing Steven Soderbergh likes to do to keep the whole film-making thing interesting. [The Playlist]
---
Mad Max: Fury Road
George Miller's long-delayed quasi-reboot starring Tom Hardy as the new Max has hit another snag, albeit relatively minor compared to the whole "being shut down indefinitely" thing. The movie will no longer shoot in the Outback town of Broken Hill, New South Wales, due to weather concerns. Assuming the movie ever does start up again, its cast also includes Charlize Theron, Nicholas Hoult, Zoe Kravitz, Adelaide Clemens, and Riley Keough. [ABC Sydney]
---
Short Circuit
We're already on record that the hiring of Paul Blart: Mall Cop director Steve Carr to helm this remake made us lose all hope for whatever minor potential the remake had. Well, in one of those rare cases where things go from bad to downright apocalyptic, Carr is out as director...only to be replaced by Tim Hill, the auteur behind Alvin and the Chipmunks, Hop, and the film that is generally considered his magnum opus, Garfield: A Tail of Two Kitties. [Deadline]