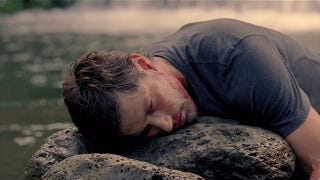 J.J. Abrams finally broke his long silence on the controversial ending of his most successful TV show, Lost. In an interview with the Guardian, he said that he hasn't heard anybody come up with their own ideas for how Lost should have ended.
We thought you'd never ask.
Here's the full J.J. Abrams quote from the Guardian (via Mother Jones):
For years, I had people praising Lost to death, and now they say: 'I'm so pissed at you for the end of Lost.' I think a lot of people who were upset with the ending, were just upset that it ended. And I've not yet heard the pitch of what the ending should have been. I've just heard: 'That sucked.'
Seriously, we're really glad that J.J. Abrams has expressed so much eagerness to hear people's ideas for how the show that bore his name could have ended. That's really great, and perhaps some of you guys will have your own ideas to share in the comments section. We certainly have our own ideas for how Lost could have reached a stronger ending, some of which we've expounded before.
First off, though, let's all agree that most of us who had problems with the ending of Lost weren't "just upset that it ended." That's a smokescreen worthy of the Smoke Monster. So with that out of the way, here are the pitches that J.J. Abrams was waiting for...
1) Show us what happens when the Man in Black gets off the Island. At the end of season five, we learn that almost everything bad that's happened is due to this newly introduced character. He's the Smoke Monster. He impersonated Jack's dad. He's impersonating Locke. He led Ben astray and thus corrupted the Others. And now he's killed JesusJacob. And now he wants to get off the Island — so show us what happens when he does.
We actually suggested this one a few weeks before the final episode aired, when it was already clear that Lost season six was not quite getting off the ground. As we pointed out, the final Harry Potter book shows us what happens when Voldemort wins — a Voldemort-dominated world is a terrible, ugly place. Meanwhile, Lost just tells us that if the Man in Black gets off the Island, puppies will spontaneously combust or something. I know, the show's special effects budget was not limitless — but they could afford a lot of other stuff. "Show don't tell" is an overused maxim, but there are times when it really does apply — and this is one. Which brings us to...