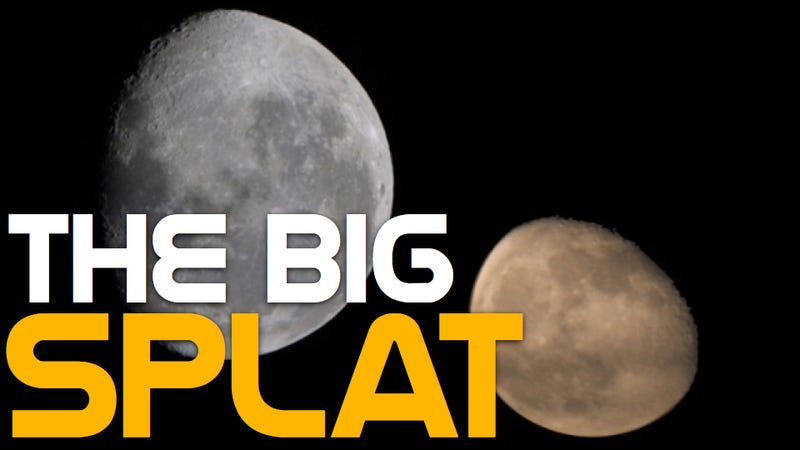 The two sides of the Moon look nothing like each other: the near side is flat and low, while the far side is incredibly mountainous. We may now be able to solve this topographical mystery...and it involves a second moon.
The current best theory for the origin of the Moon is the "giant impact" model. This holds that a Mars-sized object, sometimes called Theia, once shared Earth's orbit and collided with it over four billion years ago, and the remains of this cataclysm ultimately formed into the Moon. Now it appears that that cosmic drama repeated itself in miniature with the Moon itself. Scientists are rather awesomely calling this "The Big Splat."
It's not just that the far side of the Moon is mountainous whereas the near side is flat - it actually has a substantially thicker crust than its lowland counterpart. That's hard to explain if the Moon formed all at once, as the formation processes tend to even out such substantial irregularities. But planetary scientists at UC Santa Cruz propose a novel solution: what if the giant impact between Earth and Theia created not one, but two moons?
This second satellite would have been considerably smaller than the Moon we know today. It probably would have only been about 1/30 the mass of the Moon, which is still decently sized by the satellite standards (that's a lot bigger than Mars's moons, for instance). Both satellites would likely have shared the same orbit around Earth, with the second moon situated at one of the two Trojan points of stability relative to our Moon. We discussed Trojan points in some detail recently with the discovery of Earth's first Trojan asteroid - for a more detailed explanation, go here.