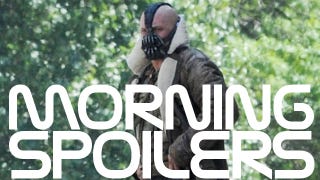 Star Trek co-writer Damon Lindelof reveals which iconic villain definitely won't appear in the sequel, and that one classic bad guy dominated their discussions more than any other. But do we even know the villain will be a bad guy?
Plus a bunch more set photos from The Dark Knight Rises and filming plans for Man of Steel.
Alice Eve addresses the script problems for Men in Black 3 and the challenges of imitating Emma Thompson.
The Doctor Who executive producers preview what's ahead on the rest of the series, while John Barrowman discusses a possible return for Captain Jack Harkness.
All that, plus HBO's plans for Game of Thrones and American Gods!
Spoilers from here on out...
Top image from The Dark Knight Rises.
The Dark Knight Rises
Yesterday we posted some set photos showing Batman and Bane at the Pittsburgh set, and here are a bunch more. Including Gary Oldman and Marion Cotillard, plus a shot of Batman and Bane standing side by side. You can see even more photos at the links. [ComingSoon.net, /Film, and Matt Maranowski's Razzi via Latino Review]